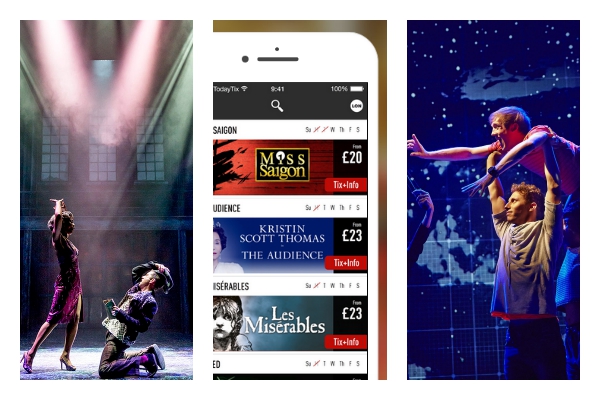 You may not identify as 'West End Person' just yet but I have the creme de la creme of musicals, plays, and apps that are going to work their hardest to convert you.
Let it happen. It's gonna be good.
Memphis The Musical
I was so very charmed by Memphis. Though the US and Tony award-winning musical only hit London's Shaftesbury Theatre last year, I had completely missed out on the 'hype' (if there every was one) and booked my tickets out of hopeful curiosity.
The story – hopeless white boy falls in love with talented black singer in the burning heart of Segregation-era America – ran the danger of being insensitive or sensationalist, especially with a relatively young British cast trying to bring 1950s Tennessee to the West End.
Memphis' success is almost entirely thanks to soul queen Beverley Knight as sheltered-but-strong Felicia. Every time she opened her mouth the audience visibly sat up straighter. Her voice is quite literally perfection; it resonates with all the warmth and power required to tell a story so tightly wound in injustice.
Memphis The Musical was beautiful, entertaining, and has now recently employed super-crooner Matt Cardle as the male lead. I doubt you'd want to miss out.
Curious Incident of The Dog in the Night-Time
Over ten years ago, I remember browsing my favourite Borders (RIP) in Indianapolis and stumbling on an orange-coloured book with an upside-down dog on the cover. I devoured said book in less than a week and pushed in to the back of my mind for the following nine years and 50-ish weeks.
The book was turned into a play. I recently saw said play. And now I must ask you to do the same.
The Curious Incident of the Dog in the Night-Time found its West End home after being adapted for stage by Simon Stephens in 2012 and winning seven Olivier awards shortly thereafter. The story – a remarkably difficult transition from page to stage – follows fifteen-year-old Christopher through a few Holmes-esque pursuits after he discovered a neighbour's pooch stabbed with a garden fork.
Christopher's charm in inherent from the start of his first-person narrative. The teen has a profoundly unusual view of the world and an extraordinary brain yet finds himself especially ill-equipped to interpret everyday life. The results – assisted by the beautiful integrity of Marianne Elliott's staging – create the most stunning, heartfelt, and honest story I've been audience to in years.
TodayTix
I find the traditional booking process for West End shows has never really suited last-minute availability and has thus become one of the reasons it takes me so long to get to the shows I want to see.
Naturally, someone saw the hole in the marketplace and launched at app that makes last-minute theatre tickets relatively foolproof. TodayTix (currently available in New York City and London) is a free iOS/Android app that genuinely provides the the best prices on last-minute theatre tickets. You can book the tickets as early as a week ahead or as late as same-day and simply pick your tickets up at the theatre before your chosen show. I have just scored an incredible deal on Miss Saigon (which I have wanted to see for over ten years!) so expect this is only the beginning for ticket binges.