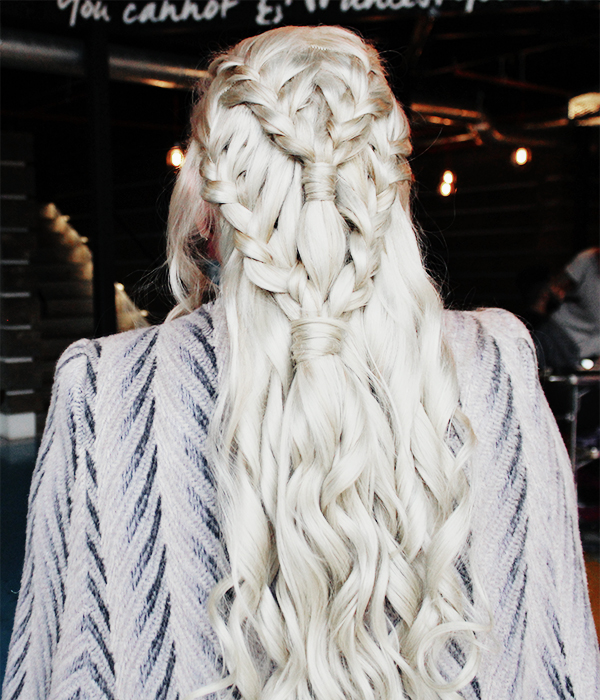 As far as hair goals are concerned, Game of Thrones' Daenerys Targaryen has got that ish on lockdown.
Of course, no-one outside of Meereen wakes up with such tresses. Not even Emilia Clarke. For the actress, platinum hair perfection is achieved via the use of full lace wigs but mere mortals don't have it so easy.
Or, we didn't until now.
With the assistance of my beloved and very talented hairdresser (Serafina of Gro London's Hampstead branch), we have brought epic Khaleesi hair to DIY life.
Inspired by her most intricate Season 5 'do, we have spelled out the how-tos for your Halloween, cosplay, or just-because pleasure, below. Enjoy!
What you'll need…
Redken Stay High 18 High-Hold Gel to Mousse
Pureology Perfect 4 Platinum Miracle Filler Treatment
Hairspray
1-inch barrel curling iron
Hairbrush
Mini hair ties (clear, if possible)
Hair grips/bobby pins
Clip-in hair extensions (I review the ones used here at the end of this post!)
Khaleesi/Daenerys Targaryen Hair Tutorial
1. Blow dry your natural hair completely. As we'll be using extensions, the more volume we can get at this stage, the better. Layer Stay High 18 over Perfect 4 Platinum to ensure protected, enormous results. (Big/fluffy is okay as we'll be curling everything later).
2. Separate your extensions into weft sizes (you'll have everything from 1-clip 2″ wefts to 4-clip 8″ wefts).
3. Leave two small sections of hair loose in front of your ears. If you'd like, place a playing card or small piece of card under a clip to hold the sections away from the rest of your hair.
4. Section most of your hair on top of your head, leaving room to clip your largest weft roughly 2 inches from the base of your neck.
5. In sections, curl the extension hair with your natural hair.
6. Take another inch or two of hair down from the top of your head and place the next-largest weft securely against the scalp.
7. Repeat, checking each weft blends seamlessly into your natural hair with a mirror.
8. At the top of the head, finish with your smallest wefts and remove your card clips to curl both strands in front of the ears.
9. Take two equidistant sections of hair from the front of the hairline and create two modified french braids which only incorporate the hair between the sections (no strands from the outside or underneath). Stop 1/4 of the way down the length of the hair and tie the braids with mini hair ties.
10. Bring the braids together in the middle and wrap a small section of the unbraided but sectioned hair around the hair ties, securing in the back with a hair grip. Use clips to hold the hair together if you find it difficult to 'hold and wrap'.
11. Using slightly larger sections of hair below the first braids, repeat steps 9 and ten incorporating the 'fall' of the first braids into the centre to keep everything symmetrical.
12. Hairspray to secure.
13. Be Mother of Dragons.
Hair Extensions Review
The clip-in hair extensions used for this tutorial were the 24-inch Ultimate Full Head in #90 (Platinum Blonde) from Lush Hair Extensions. Made of professional-grade remy humain hair, these babies are the closest thing to extension perfection I have come across. From the colour (a perfect match) to the quality (strong, soft, easy to style), the ten super-thick wefts turned my hair into HAIR with minimal effort.
In this set, you get a massive 230 grams of super-silky hair and my only genuine niggle is with the pre-attached silicone clips. Though the clips themselves are fantastic and secure, the 6″ and 8″ wefts have no clips at the corners which means the weight of the hair isn't as evenly distributed as it could be.
Nonetheless, there is no love lost. I'm going to be using these extensions every time I'm feeling a little Targaryen.