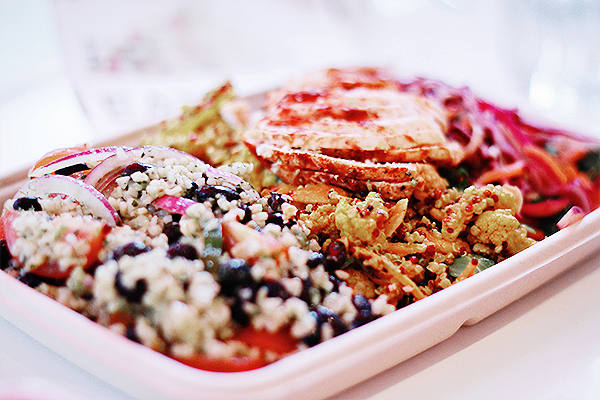 While I appreciate the fortune of a life peppered in Michelin stars and gargantuan tasting menus, my most genuine foodie thrill is the discovery of places like Maple & Fitz. The pint-sized cafe occupies a small space in Fitzrovia and serves the most fresh, healthy, and delicious meals around.
I chose to embark on my first visit with a fellow clean eating-lover in tow and my most health-conscious hat on. For the amount of skanky 'salads' (dressing with leaves) and 'smoothies' (pre-prepared, pasteurised sugar snacks) you can get in the area, I have long been searching for a truly nutritious lunchtime soulmate.
Maple & Fitz is The One.
With emphasis on the gluten-free, their freshly-prepared salads can be mixed and matched to your preference and topped with your choice of free-range chicken breast, salmon, tofu, poached eggs, grilled halloumi, or grilled avocado.
Wanting to try a bit of everything, I mixed the Julius Caesar (shredded kale, romaine, mangetout, toasted buckwheat, cabbage, toasted pumpkin & sunflower seeds, pecorino, Dijon-lemon yogurt dressing) with the Cauli in Mumbai (quinoa, roasted spiced cauliflower, shredded carrot, peppery rocket, white shallot vinaigrette) and Mexican Standoff (bulgur wheat, avocado, black beans, grape tomatoes, fresh jalapenos, red onion, coriander lime pesto dressing), then topped it with chicken and washed each bite down with a sip of their cold-pressed Green Queen juice (spinach, parsley, lemon, cucumber, celery, ginger). It was the best lunch of my life.
Having wooed the both of us, we took the staff's naughty gluten-free brownie recommendation, paired it with two raw cacao energy balls (medjool dates, almonds, raw cocoa, chia seeds and coconut), and split the loot over flat whites and work chat.
When my lunch date brought up the desire for another brownie less than two hours later (recoiling at their 5pm closing time – "…but no other brownie is as good!"), Maple & Fitz gained official hidden gem status.