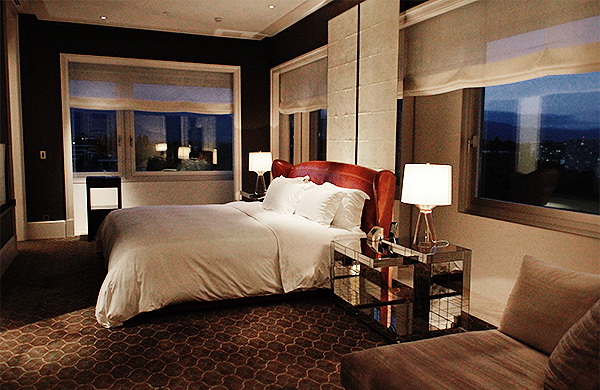 I was honoured to call the five-star InterContinental Geneve my home for the duration of my galavants across Geneva. Built in 1963, the 18-storey tower has recently been refurbished by world-renowned interior designer Tony Chi and now acts as the elegant centre of Geneva's diplomatic district (it is just a 3-minute walk from the United Nations and International Centre of Congress).
Let's take a look around…
With literally hundreds of rooms and suites in the hotel I worried that my room would feel a tad sterile or impersonal but was pleasantly surprised with a large and comfortable home-from-home. From its ample desk space to the red-marbled bathroom with peekaboo panels, the cosy space genuinely had me excited to return to my room each night.
A bubble bath overlooking Lake Geneva, the Mont Blanc and the Jura Mountains is a bubble bath like no other.
As much as I loved my room, I did swap robe for clothes on a few occasions (albeit briefly) to explore the premises. As the city's summer season is well and truly over, InterContinental Geneve's outdoor pool is temporarily closed so I spent my necessarily evil active time between their lovely 24-gym and sauna (nestled just off from the the in-house Clarins spa).
Ultimately, the hotel's top-floor penthouse – The Residence – rules as the crown jewel of travel porn. With unrivalled 360-degree views Geneva City, The Residence is split into an East and West Wing comprised of two master bedrooms, guest rooms, a grand salon, library, gallery, kitchen (fully equipped with John Pawson Demeyere cookware), bar (accessorised by Ralph Lauren), dressing rooms, marble bathrooms, powder room, massage room, hammam, private lift, and much more.
Formerly used by the Saudi Royal family and the ruling family of the UAE as long-term residences, The Residence also comes with a personal butler. Natch.
As you saw in my previous post, I had an incredible lunch at The Woods so was keen to explore the full selection of in-hotel food and drink.
The room service breakfast is, in fact, as ridiculous and delicious as it looks.
My highlight was the fire-lit Bar Le Fumoir. With a sumptuous Cigar Lounge attached, the ambient bar offers seductive little cocktails and finger food alongside the widest selection of rums in Geneva. Every Thursday from 6 to 9 pm their 'Caviar Girl' offers guests Prunier caviar shots from a vintage-inspired box of indulgence. Pair them with a Pretty Peaty Smoky (Laphroaig whisky infusion, Parfum de cigare, Liqueur d'abricot, Grand Marnier, Iceball abricot & Angostura Bitters) and thank me later.