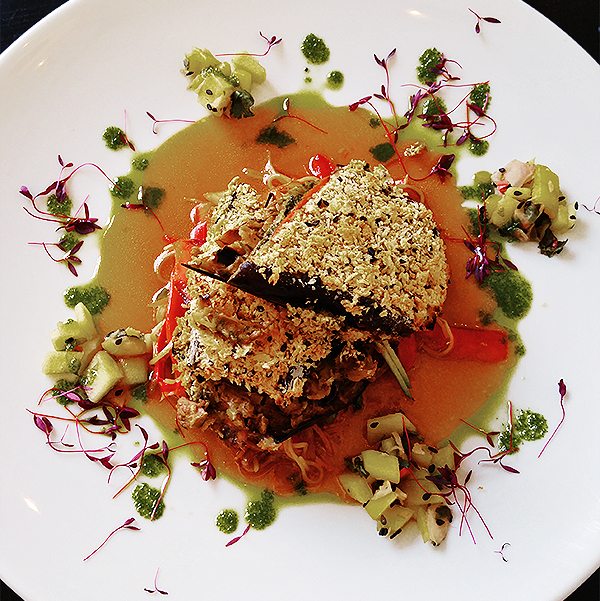 My steadfast love affair with polenta chips started two years ago at The Gate. Back then, I was an altogether more carnivorous individual than I am today yet left the vegetarian restaurant literally rejoicing.
When my nut-allergic, sober & vegan friend (I know, right?!) and I found ourselves with a string of successes to celebrate, The Gate was the only rational option.
Over fresh juices, we kicked things off with the soup of the day and Vietnamese rolls (filled with smoked tofu, cucumber, mango, mint, alfalfa sprouts and served with soya dip) before allowing ourselves the long-lost pleasure of perfect polenta.
In between bites of our aforementioned garlic aioli-covered vegan chips, we shared the vegan Aubergine Teriyaki and Thai green curry. The former – breadcrumb coated chargrilled aubergine – was layered with coriander pesto, roasted red peppers, shiitake mushrooms & horseradish and served on stir-fried noodles with a pickled ginger & mango salsa. The latter – a vegan and gluten-free curry – combined lotus root, fried tofu, baby corn, mange tout and mushrooms in a Thai-spiced creamy coconut sauce and was served alongside wild & basmati rice with green papaya salsa.
With sauteed kale thrown in for good measure, natch.
Though we were incredibly satisfied at this point, my dietary requirement-ridden amiga could not ignore the promise of a pear and rhubarb crumble with vegan chantilly cream so I threw in a lemongrass, lime leaf and coconut cheesecake (with chilli and pineapple confit) for good measure.
Every single plate served up fresh "HOW IS SOMETHING THIS GOOD VEGAN?!" Realness. The Gate is the vegan restaurant of vegan restaurants.
(And it's not even a vegan restaurant.)