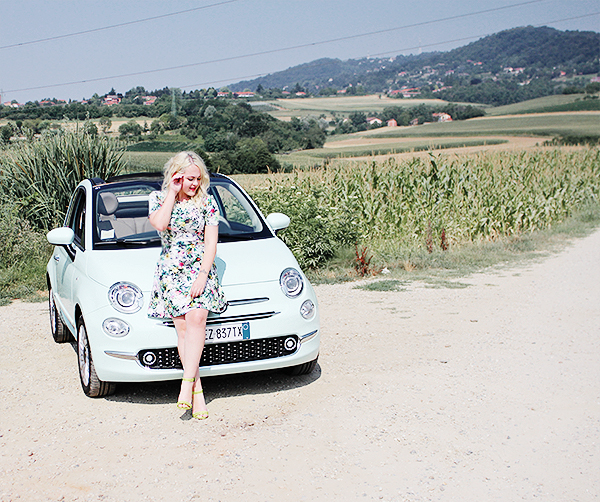 Welcome to Chapter 837 of 'How is this my life?'. Today, I am going to bring you along on my recent adventure to Turin to test drive the brand new Fiat 500.
After hopping a private Fiat-branded flight to Northern Italy (natch), we leapt into a whirlwind 24 hours of cars, cuisine and countryside capers.
Once we were introduced to the new 500s, fellow journo types and I emerged from HQ into a small sea of them (you will have seen this hysteria on my Snapchat story – lelalondob) and sped up the spiral roadway to have dinner on the iconic Italian Job test track.
Naturally, dinner turned into a very long night of shenanigans around Piazza Vittoria. After fueling up on espresso, we faked bright eyes and bushy tails and climbed into a gorgeous new peppermint 500c to explore the city for a few hours.
Since the 500's revival in 2007 I have considered myself a modern fangirl but the new models blew me away. They have had a few nips and tucks (LED running lights, tilted lights, a new front grille) while keeping hold of all the technical pros that members of the so-called 500 Club have grown to love (for me, the low emissions and supercharged but superlight 900cc engine).
We wound around the city and countryside with the very necessary aid of the new five-inch display/TomTom sat nav. We learned not only that the rumours about Italian drivers are true but that being in a slick retro vehicle with the top down and a polite invisible woman guiding your way makes the aforementioned less of an issue.
For once, it's okay to judge the book by it's cover. In fact, Fiat are releasing a ton of 'Second Skins'/wraps, thirteen body colours, eight alloy rims, and ten different interior configurations with the new 500, to boot.
Needless to say, I think I've found my soulmate.