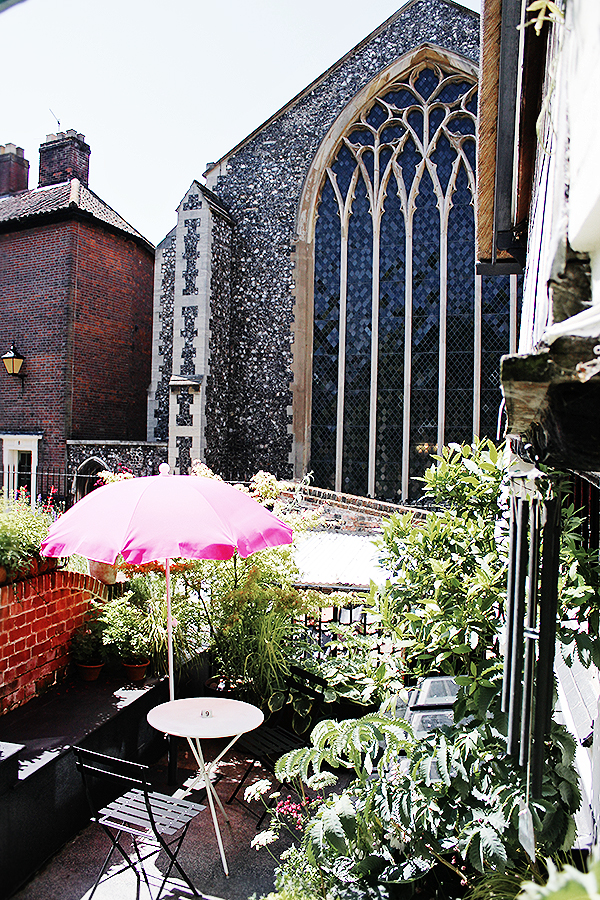 Norwich was not on the bucket list this year. Australia? Italy? Totes. The Eastern edge of England? Not so much.
As fate would have it, I befriended a lovely journalist from Norwich and – by the fierce power of words – found myself excited to explore the city.
Less than a month later, I hopped on a Greater Anglia from Liverpool Street to Norwich and First Class-ed my way towards medieval adventure (travel tip: First Class is almost empty on the weekends and therefore much cheaper!).
After meeting my partner in crime for the weekend (Jen) we wandered down a few cobbled streets and parked ourselves at Britons Arms for lunch. Though it is just around the corner from the city centre, the unassuming restaurant is the most stunning introduction to Medieval Norwich. Above its main floor, sisters Sue Skipper and Gilly Mixer curated a secret garden – upstairs – overlooking its neighbouring church and offering the most intimate and tranquil spot for a sunny lunch.
As we caught up over chilled white wine, we shared a fragrant chicken, ginger and lemongrass salad and Cromer crab, rocket & ricotta tart before capping things off with a sunshine-drenched gooseberry fool. If such a place existed in London, I would probably never leave.
After lunch, we took our things around to the ever so beautiful Maids Head Hotel and had a solid swoon over our attic room while forming a loose itinerary for the days ahead.
Realising the Francis Bacon exhibition was the farthest activity on our to-do list, we mapped our route to the bus station and hopped on bus 25 to visit the Sainsbury Centre for Visual Arts on the campus of the University of East Anglia. The Centre was designed between 1974 and 1976 and was the first major public building designed by world-renowned architect Norman Foster.
Francis Bacon and The Masters is flooded with masterpieces on loan from the Hermitage, including pieces by Velázquez, Rembrandt, Titian, Michelangelo, Rodin, Van Gogh, Picasso, Cézanne, Gauguin and Matisse (many of which have never before been shown in the UK).
As we're out-of-term, the campus and Centre was sleepy and beautiful both inside and out. After finishing a few teas in the cafe, we followed a swarm by young bunnies running in and out of feet to the bus stop and headed back to the city centre.
As evening approached we returned to the Maids Head to watch the Lord Mayor's Street Procession (which, fortunately, culminated right below our room!) and freshen up for the evening ahead. Over two hours, we watched neverending hoards of locals (bands, cheerleaders, performers, et al) perform through the streets to wild fanfare.
Before we knew it, dinnertime has arrived. Pre-travel research suggested Roger Hickman's was the creme de la creme of Norwich cuisine and this was proven by all possible measures.
'RH' – as its signage suggests – is surprisingly cosy for a restaurant with a tasting menu; a handful of tables, a lack of pretention, and a smile with your service.
We opened a bottle of Riesling and set off on our eight-course adventure.
By the time the third course arrived (crab salad with avocado, cucumber and qual egg), the intricately-planned plates had taken me back to my first experience of such artistry at Tom Aikens' eponymous restaurant in London (long-time blog readers will remember it, without a doubt).
The most daring dish of the evening was undoubtedly the Norfolk Loin of Lamb (with aubergine caviar, red peppers, potato terrina, and lamb sweet breads) but the simpler dishes – such as a 'carrot salad' – arrived with all the careful panache and flair as the rest.
When the chef came to say hello over Irish coffees, he shared tales of his previous experience at Tom Aikens (puzzle solved!), life in Leeds (natch), and an undying passion for his experimental plates and the city they're served in.
I'm expecting Michelin stars.
The following morning we sauntered down to breakfast as late as we possibly could. Food comas and all that.
Though I often use hotels as an excuse to eat breakfast in bed, the Maids Head's breakfast set-up was rather lovely. A buffet of sorts is served in their main restaurant (The WinePress) which includes a table service menu and all the fresh coffee you can handle. I could think of no better way to start a Sunday than Eggs Benedict and unlimited caffeine.
Inspired by a sudden downpour, Jen and I decided to spend a few hours working, watching Love Island (sorry not sorry), and doing rain dances.
They worked. Don't judge.
As it was our only full day in the city we had planned to cram in as much as we could. For fuels sake, we headed through The Lanes to experience the supposed magic Grosvenor Fish Bar.
I never thought I would be able to praise a chippy…but YOU GUYS. This is the fish shop of all fish shops. Recently refurbished, the 90-year old Grosvenor Fish Bar is all the English tradition you could hope for with a retro Americana twist. With limited space at the 'Bar' itself, the owners have turned the lower floor into a cave of impossibly quirky bunker dining but have also teamed up with the adjacent pub – The Birdcage – should you want a tipple with your fish feast. Delivery included.
Naturally, we did the latter.
Surrounded by a gallery wall, trinkets, and smiling hipsters a-plenty, we placed our gargantuan order and watched the door excitedly from our 70s-inspired chairs.
Everyone's heads turned as our order arrived. Taking up the entirety of our table, we powered through a Bass With Sass (crispy sea bass fillet wrap with lettuce and spicy mango salsa), Wako Taco (spicy steamed cod wrap, salsa, lettuce, cheese, sour cream), Shark Bites (shark nuggets served with a miso dip), a Cod Goujon (the classic), and fried pickles/battered gherkins with aioli. The stuff of childhood dreams.
Even if you're only in Norwich for one hour, you must find time to visit Grosvenor Fish Bar.
Full to the brim, we set off on our adventures. Casual wandering took us up and down a number of charming Medieval streets, into a crystal shop, towards the edge of the city centre, and at the closed doors of the Dragon Hall.
Undeterred, we stopped to watch the city's celebratory duck race and took another small walk to explore the wonderful Jeff Koons (the conceptual King of value) exhibition at Norwich Castle.
Taking a different route back towards the hotel, we crossed paths with a number of dragons and a giant octopus before arriving at our final stop, Norwich Cathedral.
To put it simply, the cathedral is breathtaking. The heritage site took forty-nine years to build (somebody didn't want to hit the big 5-0), has one of the largest close's in Europe, the most exquisite naves, and the second largest cloisters in the UK (mad Harry Potter vibes),
All walked out, we returned to the Maids Head, got into our robes, made cups of tea, constructed a fort over the many beams, and fell asleep in hair masks.
On Monday we stayed in bed as long as check-out would permit, packed up, and dropped our bags behind the desk so we could play for a final few hours (read: mostly sitting in Jarrold's, people-watching and reading the paper to each other like an old married couple).
As Cote Brasserie opened a brand-new restaurant that very day, we decided it would be the ideal spot to say goodbye to the city.
Toasting the city with kir royales, we kicked things off with yellowfin carpaccio (dusted in vierge sauce and black olives) and baked crotin (warm Loire Valley goat's cheese with lamb's lettuce, apple salad, walnuts, croutons and golden raisins).
Inspired by her crotin, I went for the chicken & walnut Salad (chargrilled chicken with avocado, baby gem lettuce, baby spinach, shallots, French beans, walnuts, croutons and a mustard dressing) while Jen opted for the most impressive tuna nicoise I have ever seen (medium-rare chargrilled tuna steak with French beans, cherry tomatoes, black olives, peppers, new potatoes, egg, baby gem lettuce and red onion).
I am not sure why I waited so long to visit a Cote (it is the closest thing to my dream menu), so I thank Norwich for that at the very least.
Saving our goodbyes as long as we could, we ordered double espressos, a creme caramel and a praline crepe with caramelised banana & chantilly cream (I will have dreams about this one).
With no expectations, I was completely bowled over by Norwich. The city is the epitome of English charm with no hesitation to innovate or celebrate. What else do you need?