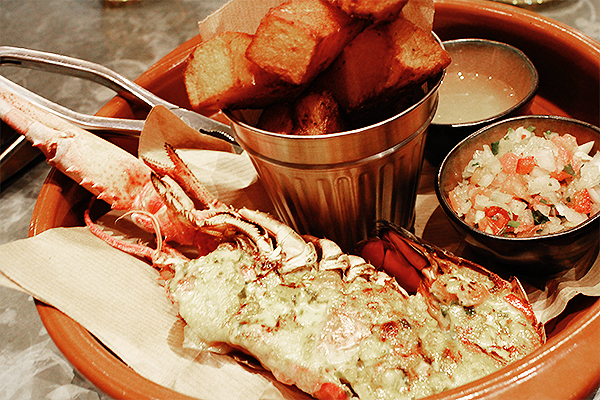 This past weekend marked my long overdue return to Leeds for a few days of catch-ups, indulgences, and bittersweet goodbyes.
But, most importantly, the indulgences.
Though I had lived in Leeds for over a year, I never made it to the Firelake Grill House in The Light's Radisson Blu hotel – despite heavy praise – so decided my return was the perfect opportunity to book in.
Upon arrival, my lady love and I passed through the bar area and made our way to the dining area to snuggle up in a plush, kitchen-facing booth. Aesthetically, Firelake is somehow both expansive and cozy – it has 'Yorkshire' written all over it.
Quite literally; I started the meal with the 'Stubbornly Yorkshire' – a beautiful wooden platter of cured meats, pressed pig cheek & ale terrine, beetroot yoghurt and homemade pickles – while my accomplice opted for the much more sensible grilled asparagus starter, paired with parmesan, hazelnuts and lemon.
After quite literally agonising over the decision, she then chose to play Yorkshire's Advocate with an incredible tray of Champion Yorkshire pork sausages, home-made ketchup, milk-bottled gravy and charred potato mash while I gave into my vices and ordered half a native, flame-roasted lobster with lemon preserve.
In the comfort food stakes, Firelake's fresh bread (smothered in olive oil) and lobster are going down as an unlikely lead.
Upping the ante on our skinny jeans, we decided to go all out on dessert with warm doughnuts (warm cinnamon sugar, strawberry preserve & cream) and black figs (floating atop lavender custard & salted meringue).
The menu is an unusual delight and one I plan on forking my way through for many Northern trips to come.