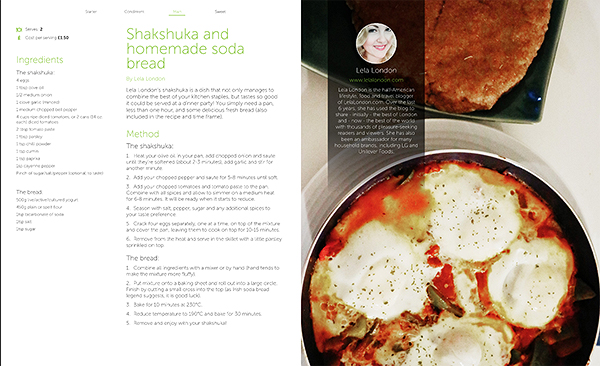 Business – and life in general – has been manic over the last few months and I haven't had as much time to share my favourite restaurant discoveries as I normally do.
Nonetheless, I have still been eating behind the scenes and happening upon foodie favourites of alternative varieties.
Which brings us to this; my current food favourites. Just not before shouting about my super low-cost (but delicious) Shakshuka and soda bread recipe being featured in this free recipe book! I am such a supporter of all the contributors – it simply can't go without sharing.
Gousto
I have tried a number of meal delivery companies over the years without great success. While I love to cook, I often find the recipes offered too simple, too bland or too carby (which is just not my thing). Gousto is different. Gousto's recipes are innovative (everything I've "ordered" to cook has been something I haven't made before), fresh, and restaurant-quality (with novice chef-friendly instructions). You simply choose the pre-portioned recipes you want delivered, the date you'd like to receive them, and cook them at your convenience in the week that follows.
My healthy favourites include the Harissa Chorizo With White Bean Mash and Mediterranean Fish Stew & Sunny Aioli (but the Sticky Pomegranate Persian Halloumi is currently tickling my fancy).
The great news? If you're interested in trying it out, the code FRESH4 will give you £22 off a 2 people box and £25 off on a 4 people box. Total no-brainer
The new menu at Sushi Shop

I have been a massive fan of Sushi Shop's French-Californian sushi menu for quite some time. It is the only place I frequent for sushi in London and meets all my creative and quality-led expectations for the Japanese cuisine.
When they announced they would be partnering with the haute cuisine genius of Kei Kobayashi, I knew I was in for a treat.
The result is a four-piece collection of aesthetic glory. I would be ashamed to reveal I've had at least one Gyu Special Roll a week since it launched (Beef, Avocado, Carrot, Red Pepper, Rocket, Coriander, Chives, Fried Onions, Chili, Sesame Oil Mayonnaise, Teriyaki Sauce, and Lime) if it wasn't so utterly perfect.
Chocolate Cards from Candy Mechanics
This might just beat every other kind of card in existence, babe. This card is not only edible (and rich milk chocolate-ly so) but completely customizable. I received one with my name, a unicorn, and some sparkles – I love it so much I've only been able to take one bite from it.
The creators – Candy Mechanics – also make 3D chocolate lollipops of your/your partner's face, to boot. Ingenious.