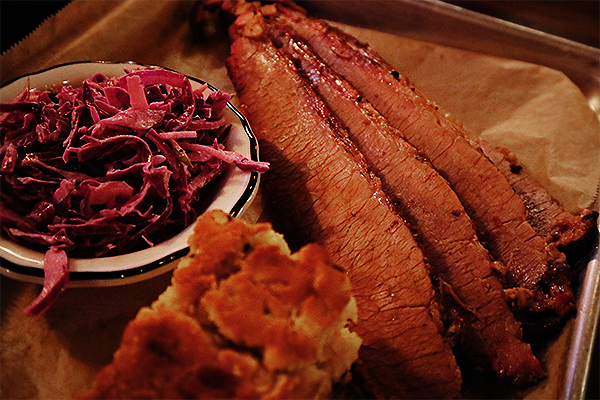 Proper Kitchen and Cocktails (monikered Proper DTSP) is the most frequently praised love child of King of 1st Avenue South, Stephen Schrutt – the trend-savvy owner of Proper's equally successful neighbours, The Avenue and Park & Rec (the latter of which offers its retro game-playing patrons a micro pickup menu from both siblings).
While opening three restaurants in a competitive row hardly sounds like a stairway to entreprenerial heaven, each hot spot's respective identity keeps the crowds returning night after night. To celebrate my last evening in St Pete before heading to the Midwest, it only seemed – for love of a pun – proper to end up at the craft cocktail beacon of Schrutt's epicurious trifecta.
Not to say Proper is all drank and no play. Far from it. Their culinary calling card is their wood-burning smoker and the idiosyncratic creations inspired by it.
To kick things off, my dining companion and I loaded the table with wood-fired oysters (stuffed with chorizo & chili garlic butter on the half shell), gator bites (a Floridian specialty pumped up by cilantro crema and chili garlic aioli), and a grilled sweet watermelon salad (blending arugula, gargantuan feta chunks, candied pecans & cornbread croutons under balsamic vinaigrette).
Individually, each dish was incredible and only intensified by the arrival of an Old Man & The Sea (Mount Gay Black Barrel, Benedictine, Banane Du Brasil, Tiki Bitters & Angostura) and 10 Lords A Leaping (Monkey Shoulder Scotch, honey, fresh lemon, and St. Elizabeth​ All Spice Dram).
Do not visit Proper without planning a tour of the cocktail menu.
As one can only go meat or go home in such an establishment, we then turned to taste tests of their four signature sauces (classic, gold, sweet & spicy, and the killer smoked habanero) before settling on ribs and lean-cut brisket. The latter, in all its ample Angus glory, lacked the punch I expected after throat-tingling my way through the smoked habanero but worked perfectly with the accompanying cornbread and 'slaw. The half rack of St Louis cut (read: rectangular) ribs, however, blew me away; phenomenally meaty, tender, and seasoned to perfection. Even for a woman who avoids meat on the bone.
Though we struggled eating half of what we ordered, our waiter Josh waxed so genuinely lyrical about their Nutella bread pudding we decided dessert (which changes daily) couldn't be desisted. A decision worth every gooey, bouncy and naughty spoonful.
Do cocktails. Do chill vibes with a strong – albeit nostalgic – playlist. Do enough food to feed you for weeks. Do it proper.