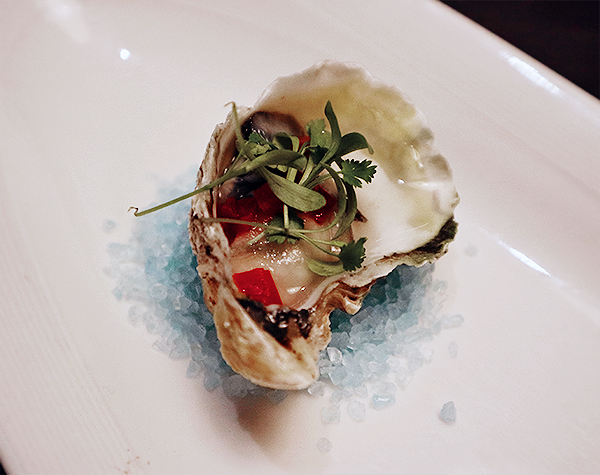 It's time to judge a book by its cover, my treasured foodie friends; Sea Salt is every bit as exquisite as its 22-foot tall wine tower, marble-topped raw bar, and general sweeping sumptuousity.
Naturally, I walked in skeptical. I have visited (and generally refused to review) a number of restaurants with a severe imbalance in style and substance. The meretricious disappointments are part and parcel of food writing.
Sea Salt is one of those glittering, infallible exceptions.
The chef and owner, Venice-native Fabrizio Aielli, is committed to excellence across the board – quality ingredients, quality staff, and quality menu curation that changes by the day.
It is perfection with a soul and – as the name would suggest – an international destination for all things sea and salt (the restaurant sells and serves 130 varieties of the latter).
Perusing the menu over a glass of Schramsberg Vineyard's sparkling Chardonnay-based Blanc de Blanc, it almost felt rude to feign refusal of the oyster menu so my date and I kicked things off with the raw bar's Tartufata (black truffle, burrata & leeks) and Kona Kampachi (avocado, red onion, capers & sweet chilli truffle sauce).
They were, without a doubt, the most flavourful oysters I have ever had and the start of a truly unforgettable culinary adventure.
Entrusting our uber knowledgable sommelier with all subsequent liquid decisions, we soaked up an inadvisable amount of Sriracha & truffle-infused salts into olive oil-soaked sourdough and settled in for the night.
Everything on the menu, defying logic and seeming possibility, tasted even better than it looked. From
Diver Sea Scallops (with cauliflower puree, apple, fennel, radichio & an incredible vandouvan curry nage), to Octopus (with smoked paprika, beluga lentils, chorizo & tomato marmalade), to Saffron Cavatelli (with Maine lobster, green peas & an ingenious mascarpone-prosecco sauce), to homemade ravioli (pack with tender braised veal and ricotta in a black truffle sauce), every flourish mattered.
By this point, the sommelier's phenomenal choices (highlights of which included Delaporte Sancerre with the scallops and Caparzo Brunello di Montalcino with the Cavatelli) settled in and had me waxing lyrical – a tad too vehemently, perhaps – about my love of surf and turf.
Before I knew it, the chef had sent out an off-the-menu ode of his own; their yellowfin tuna (atop seared Hudson foie gras, black venere rice, wasabi pea aioli & a carrot-white soy emulsion) and the most unbelievably tender black Angus fillet mignon (cushioned by burrata-whipped potatoes and a Cabernet Bordelaise). Paired with a glass of Bootleg's luscious Merlot/Petit Sirah/Cabernet Sauvignon/Syrah/Zinfande red blend, I reached ecstasy's inevitable breaking point.
From start to finish – hostess to waitress – I could not have asked for more from Sea Salt.
But I suppose since my takeaway box of gourmet, silken chocolates from Norman Love (I live for the "Hot Dark") lasted all of 24 hours, I'll have to return at every opportunity over my final two weeks in St Pete to do exactly that…
YOLO and then some.