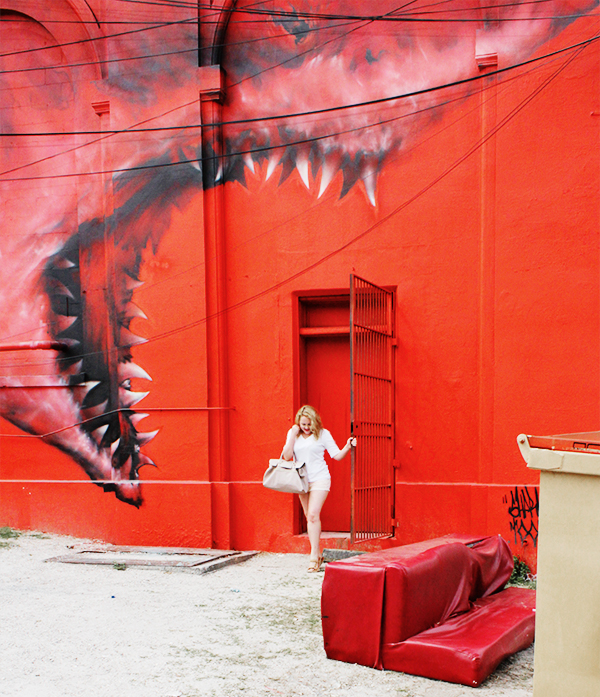 Less than twelve hours after returning home from Italy, I hopped over the Atlantic to embark on a week-long rediscovery of St Pete in Florida.
As I've mentioned before, my go-to approach when getting to know a city is walking as much of it as I can so was pleased to schedule myself in for Florida CraftArt's St Pete Mural Tour as an adult introduction to a part of America I hadn't seen for over ten years.
The two-hour tour took our small group of enthusiasts, locals and tourists through the backstreets of St Pete's 'Arts District' – centred, appropriately, around Central Ave – and matured into the most inspiring city initiation imaginable.
Though I would never have expected it (based on misconceptions I will delve into in an upcoming blog), St Pete's arts scene is thriving. During the recession, the city's artists took the opportunity to own and rent studio space cheaper than ever before and manifested a progressive community of their very own.
With government assistance, the city's walls have become powerful canvases. A compelling collection of metaphorical graffiti art, societal commentary, and love letters to the city from the esteemed likes of Ricky Watts, Sebastian Coolidge, Man Made Murals (their comic-inspired "Saint Tampasburg" is an illusory feat), and more.
Personally, highlights included the giant shark mural by LA-based Shark Toof, a 'Man vs. Ape' collaboration between artists Bask and Palehorse (much of Bask's contribution was influenced by the themes in George Orwell's 1984), and a touching memorial to St Pete's own Bill Correira. The latter – dedicated to the artist better known at Woo – began as an overnight portrait project from friend and fellow artist Derek Donnelly as soon as word of Woo's unexpected death hit him in 2012. In the four years since, members of the city at large have contributed personal pieces to the memorial, immortalizing Woo in a glorious underwater permanence.
It took less than the two full hours to feel intoxicated by the creativity, community, and art in St Pete, and this was only the beginning…