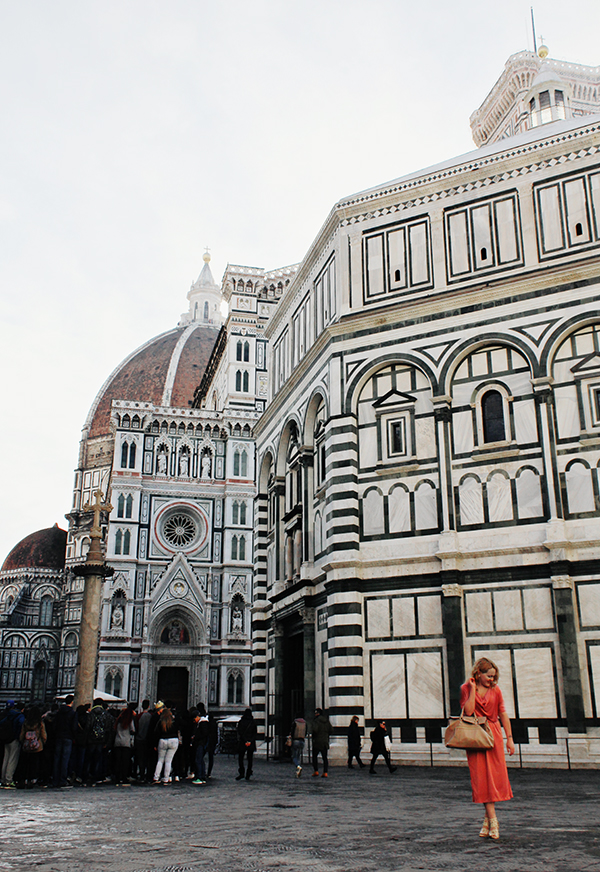 After a handful of perfect days in Venice, I pre-emptively resigned Florence to a status of second-best. As well as being renowned for its high-brow art scene (which has never been my bag), The Boy couldn't remember much of his post-teen trip to the city, leaving me with a scene set for lovely architecture. At best.
Quite the contrary, Lela from two weeks ago…quite the contrary…
After hopping off our train from Venice, we took a five minute trek to the Hotel Atlantic Palace (hugely recommended – great service, breakfasts, rooms) to drop our bags before turning the corner to the Mercato Centrale.
The Mercato – or Market – is famed for its chef-approved morning food market on the ground floor but has an equally wonderful second floor which hosts a permanent and all-day food court. From gluten-free pastas to fresh, wood-fired pizzas – it plays host to some of the best and most affordable eats in the city.
Before we knew it, night had fallen over the stained glass of the Mercato and we found ourselves craving a quiet night in.
Thanks in large part to the Atlantic Palace's jacuzzi-style bathtub.
We chose to squeeze in a night stroll around the Duomo, pick up a Lush bubble bar alongside bubbles of a stronger variety, and count some sheep before a bustling second day.
Day Two was a careless exploration and – in retrospect – one of my favourite travel days of all time.
After a morning walk, we took faith in a local's recommendation and made our way to the Biblioteca delle Oblata. Though guidebooks seem to glaze over it, the unassuming library has literally unbeatable views of the city's rooftops and Duomo with a Prosecco-wielding cafe, to boot.
Balconies, books, and breathtaking architecture rarely come so impeccably packaged.
After a few hours in our covert oasis, we crossed the Ponte Vecchio (a fabulous bridge and view, unlike Venice's Rialto) for a wander through the Boboli Gardens at the Pitti Palace. Though you have to pay to get in, the Gardens are the most remarkable example of green architecture that I have ever seen. Starting in the fifteenth century, their creation and development spanned four hundred years: hippodromes, fountains, domed greenhouses, grottos, et al. It is a must-visit (and the ticket includes access to the Costume Gallery, which is lovely itself).
After spending the next few hours in a tour that deserves a blog of its very own (coming in just a few days!), we treated ourselves to a glass of Pinot Nero in Il Santino's humble bar and walked down the Via di Santo Spirito to dinner.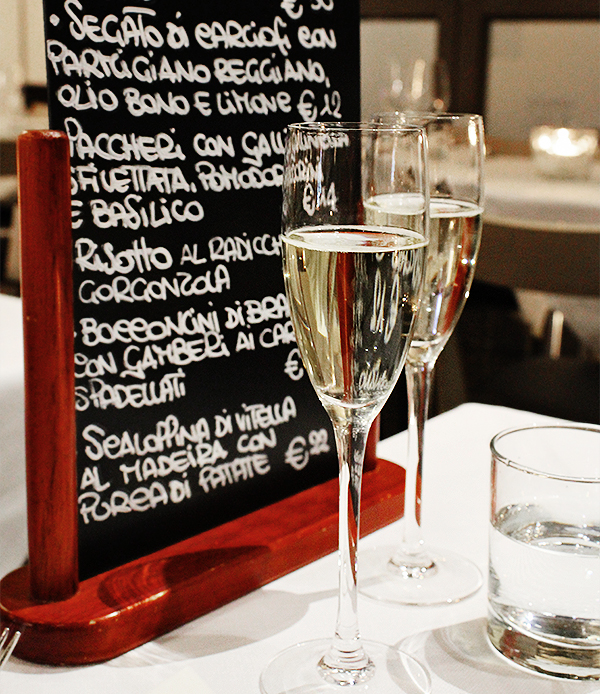 On another piece of local counsel, we booked in for dinner at Neromo. From the complimentary Prosecco to the impeccably fresh coccoli (with prosciutto crudo and stracchino), the meal was faultless.
We waterboarded our plates in olive oil and balsamic vinegar before clearing others of Penne Neromo (with Motticella tomato, bacon, cream, vodka and chili) and the creamiest seafood spaghetti imaginable. In the Italian food stakes, it doesn't get better than Neromo.
Stay tuned for Florence's best art tour, Pisa, and more!