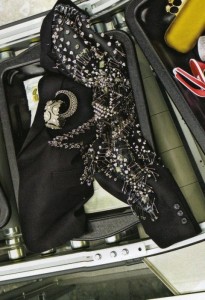 Let's get straight past the crazy: the industry is gearing up for a Lifetime movie, right? Was I unaware we were involved in some Shakespearean method acting? This has been one of the most bizarre fashion weeks to date. See below:
John Galliano (rightly) accepted personal responsibility for his actions.
– Fired (replacement: Alessandra Facchinetti FTW).
– Got kicked out of his attempt to appear at Dior.
Christophe Decarnin (the designer) was absent for Balmain's A/W 2011 runway show.
– Insiders say that he has actually been in a mental hospital since mid-January.
– Apparently the in-house design team and stylist Melanie Ward (who replaced Emmanuelle Alt after she stepped down to focus on her new role as editor in chief of Vogue Paris) designed it all.
– Balmain say he's been snoozing.