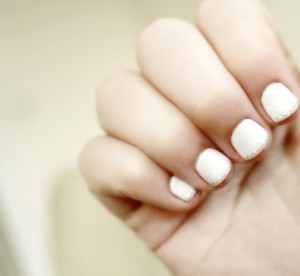 I have no time for traditional nail polish. In a hands-on career, a simple 30-minute application turns into daily touch ups, and the minute a nail is snagged on a zipper or pin it is all over.
Thankfully, I have just been introduced to the nail treatment favoured by the likes of J-Lo, Victoria Beckham, Beyonce, and Cameron Diaz – Tom Bachik's Artistic Colour Gloss – an everlasting soak-off gel polish.
I went to Harrods' nail loft in Urban Retreat once I heard about the chip-free manicure that lasts 3 weeks. With 22 new shades just released for Fall/Winter 2011, I chose Artistic Colour Gloss' white polish, shimmer coat and glitter tip from a total of their 66 colours (though hugely tempted by their new neon orange shade!)
Thanks to a lamp that cures the nail dry in 30 seconds, I was completely finished in 30 minutes total with not a smudge to be had. 3 weeks of flawless nail art for 30 minutes? Win. I think I'm addicted.