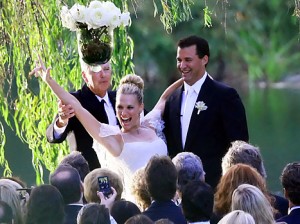 Molly Sims tied the knot (wearing a mermaid gown by Marchesa) with Hollywood film producer Scott Stuber (wearing Tom Ford) this past weekend in Napa Valley, California. Congratulations, beauties!

Speaking of Tom Ford, his Spring/Summer 2012 collection has been suffering a beating. Maybe such a small, private affair works against a designer, nowadays?

From the first model on the runway, we are struck by what resembles an out-of-style Gucci collection from ten years ago. The fussy complications of the cuts (drawstrings, shirring, high-waisted skirts, leg-of-lamb sleeves), the disheveled hairstyle of a girl barely back from happy hour, and the overdone makeup… Overload is the key word of the show… The laced shoe? An ersatz model of an Alaïa. The jogging shorts in black leather? Already seen last year in Céline's cruise collection, as were the sandals with bracelet straps (here, encrusted with rhinestones). The coat bristling with raffia? A pale version of those in Yves Saint Laurent's spring 1967 collection.
[…]
At the end of this inventory suited to Kim Kardashian, Tom Ford appears. He advances. And he remains there, in the central area, asking people to stand up. Perhaps [people would do so] out of distress, or sympathy, or because all of this is supposed to be festive after all. But everybody just looks at their feet. The music does not stop. Ford tries to speak above the noise, louder. We can't hear a thing. We just see this baby-faced man trying desperately to clear the air. He throw[s] himself upon his companion, Richard Buckley, and hugs him (Ralph Lauren often hugs his companion Ricky at the end of his shows, but then he returns backstage). But here everyone stays put. So Tom Ford retreats toward Anna Wintour and now it's she whom he decides to embrace. Troubling.
– Virginie Mouzat of Le Figaro
It's official! Andre Leon Talley is leaving America's Next Top Model as a judge (sad face), and is being replaced by People's Revolution's Kelly Cutrone (WOOHOO face). ANTM will be losing an intelligent and endearing fashion plate, but will be gaining a rock-hard PR maven and seasoned reality show pioneer. Win some, you lose some.

Fashion designer Rebecca Minkoff gave birth to her first child over the weekend, a baby boy. More congratulations!

Steven Tyler's other beautiful daughter, Chelsea Tyler, has been signed as a model by IMG.

Starting with a GQ bar in Instanbul and a Vogue cafe in Kiev, Condé Nast plans to open many more restaurants next year!