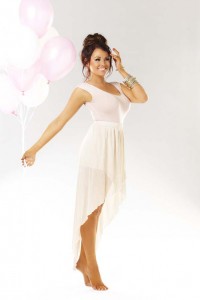 It seems pretty strange that though I don't watch The Only Way Is Essex, as soon as I had received the invitation the Jessica Wright's boutique launch, I knew who she was. As one of the more fashion-forward and sweet-natured cast members of 'TOWIE' (as judged by her media representation), I was very intrigued to see what her boutique 'With Love, Jessica' had in store.
It was Jessica to a tee. The lingerie boutique not only features some of the girliest, sweetly seductive undergarments around (from Caprice, Melissa Odabash, Alexis Smith, etc), but it also showcased her brand new clothing capsule collection with LOVE.
There are seven pieces for Jessica Wright for Love; two bodices, three dresses, and two skirts. All glamorous enough to please the Essex crowd, without going over the top. (I think the nude bodice is a must-have, for me, after seeing it on Jessica herself).
So, enjoy the TOWIE-tastic photos from the launch (including my gorgeous assistant, Yeshna, with Arg – her dream man!) and head down to 'With Love' (at 148 Loughton High Road, Loughton, Essex, IG10 4BE) if you're looking for lusciously lady-friendly shopping!