In an issue dedicated to celebrating the relationship between music and fashion, V magazine's "The Queen Of Hip Hop" editorial appropriately features a top, skirt and shoes from Kanye West's debut collection.

The former managing director of Hermes France, Bruno Guillon, has recently joined British fashion label Mulberry as their new chief executive. He plans to help heavily transition the brand into Asian markets.

Boardwalk Empire actor Michael Pitt is the official face of Prada's Spring/Summer 2012 menswear campaign – a David Sims-lensed look at the golden age Hollywood icon. According to the brand, Pitt "explores the language of male role models from the rock star to the playboy, from the self-reflective introvert to the engaging and humorous farceur. […] Contemporary men work when they play and play when they work. The boundaries are no longer clear – as the campaign's simple props and gestures emphasize."

Unfortunately, I can only see him as a psychopath. Thanks, Funny Games.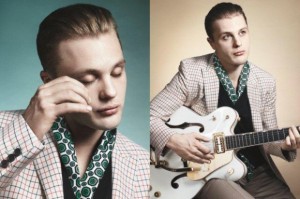 DKNY is supplying the New York Rangers with their practice jerseys for the rest of the season! Never before have I wanted to be a hockey player!

GQ has awarded Jared Leto with the title of 2011's worst dressed man, for looking "extravagantly terrible all year long."

Though cotton topped out at $2.12 this year, prices have just dropped to 86.4 cents a pound. A step in the right direction!

Who's face/body/photoshopping earned magazines the most moolah, this year? Jennifer Aniston, Heidi Klum, and Sarah Jessica Parker!

Sarah Jessica Parker's Elle, Vogue, and Marie Claire covers were the second or third best-sellers for each publication; Heidi Klum's Lucky and Glamour covers were both magazines' second best performers, and Jennifer Aniston gave Marie Claire its best-selling issue in July and pulled in major sales for her November Elle cover.

Who didn't do so well? Reese Witherspoon, whose covers marked below-average sales for Vogue, Marie Claire, and Glamour. Interestingly, magazines with Kim Kardashian on the cover were doing well in the beginning of 2011, yet as her so-called 'sham' marriage unfolded the numbers have started to look very poor.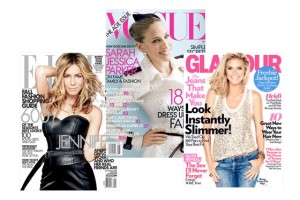 Singer John Legend proposed to model Chrissy Teigen this past weekend while they were on vacation in the Maldives! WEDDING PHOTO EXCITEMENT.

Alessandra Ambrosio just announced that she is pregnant with her second child! The model and her fiance, Jamie Mazur, already have a 3-year-old, and are looking forward to adding another member to the family in five months time.

Yes, that does mean she was pregnant with strutting her flawless body down the Victorias Secret Fashion Show runway. Weep with me.