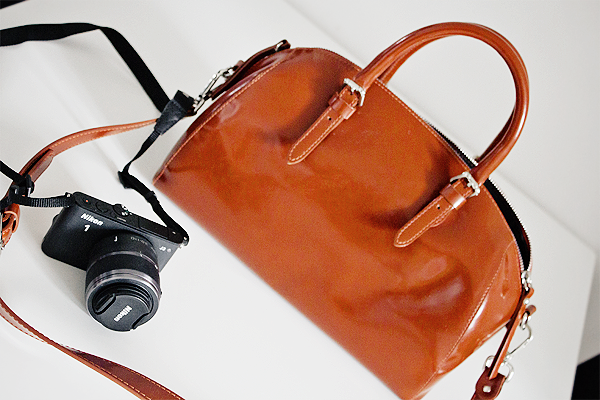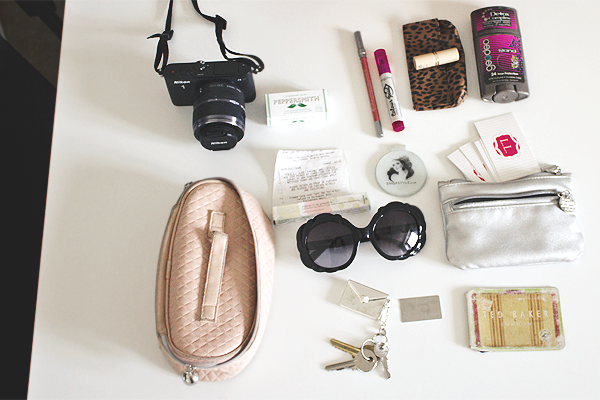 What's in my Handbag? Surprisingly, not as many random tidbits as I have in my handbag during Winter months! Summer means long days out and about and my old Gianni Chiarini patent leather handbag is the perfect size to hold the essentials.
What's in my bag?
Left to right, top to bottom:
Nikon 1: Come on, I'm a blogger. You knew this was coming. When compared to my larger and heavier SLR, this camera is a must-have for Summer.
Peppersmith gum: I love this stuff. Instead of your typical chemical-filled gum, Peppersmith gum has no artificial flavours, colours or preservatives, no aspartame and no petro-chemical bases. 'Fine English Peppermint' is my favourite flavour, but a little birdie told me they are soon to release a fish and chip flavour!
Urban Decay lip pencil in Naked2: The only 'makeup' I keep in my handbag is the lip producy I am wearing on any given day. I feel like if you have to carry a lot of make-up in your handbag, your products probably aren't working for you like they should.
Collection 'Colour Pout' lip stain in Pucker: Sometimes it is not so much 'lip of the day' as it is 'lip of the day a few days ago'.
Gayle Hayman Lip Lift in a leopard pouch: A rather expensive alternative to Chap Stick or Vaseline, but one I can't do without. Super sunblock lip smoother at your service.
Geo Deo deodorant: A random find from CVS on last May's trip to New York. Literally obsessed. Though I have no real 'signature scent', this sustainable and natural deodorant also has an incredible smell.
Pink medical pouch: Using an old Lancome gift with purchase bag, I keep all my medical/Diabetic supplies in one place (insulin, needles, vitamins, etc.)
Lip product and receipt: I bought the wrong colour of a Clinique gloss I love. I would never remember to exchange it if it didn't live in my handbag.
ShopStyle mirror: Convenient and tiny.
Purse: I use an old La Prairie travel kit bag as my purse because it doubles as the perfect 'Quick! I need to go buy something!' purse. I keep business cards in the main pouch with any notes and keep cards and coins in the smaller pouch.
Anna Sui sunglasses: My beautiful/obnoxious sun spectacles.
Keys: One of my best friends gave me this lovely keychain a while ago; it is a heart stamped envelope with a silver letter inside that reads "You'll Do Great Things". It is a constant reminder of my friends' undying love and support (they're my family, essentially) and also holds one of three keys to Alex and I's love lock from Paris.
Ted Baker Oyster card holder: London life. 'Nuff said.