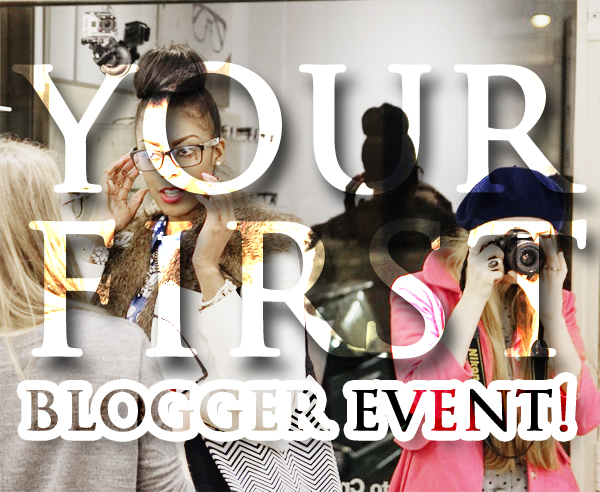 A lot of my lovely blog-creating readers tend to send me questions about blogger events. What do I wear? How do I act?; the list of questions is fairly repetitive and a list I'm sure more and more of you will be wondering as you get into blogging.
In hopes of being super helpful, I thought I would share a few of my personal tips to make the most out of blogger events with you fellow blogger babes.
So, here it is:
Your First Blogger Event: A Guide
1. Be social!
Different kinds of people react to social events in a variety of ways. While the life of the party will always be smiling and want to talk to everyone, it isn't unusual for a lot of men and women to feel spurts of anxiety when having to interact with new people – especially if you struggle with 'small talk'.
While I've always been a very social person, I did feel like a small fry when I started attending blogger and media events a few years ago. It was a shock to be greeted by the faces of journalists that had inspired me (Hilary Alexander, to name names) and CEOs of some of my favourite brands.
All you need to remember is that if you've been invited somewhere, you've been invited for a reason. You are likely to be surrounded by those who not only have similar interests, but have the drive and passion that has got you where you are. Make friends!
2. Familiarize yourself with the policies!
The physical or digital invitations will usually answer any question you may have, but PRs will be more than happy to clarify anything you're unsure of. I personally feel it is fair to ask to bring a plus-one if the event seems appropriate and it would make you feel more at ease, but I would never do so if it was at a cost or inconvenience to the event. RSVP by requested dates, show up at the right time, and let the good times roll.
3. EAT!
I know, I know, no-one wants a photo of themselves making out with a cupcake all over the interwebs, but only the truly heinous event photographers will snap you in the act. Blogger events are often catered with nibbles, sweet treats, and impossible-to-eat canapes. No-one cares what you're eating, so treat yourself to a macaron or ten if you desire it. (Insider insight? I have known PRs to be bollocked over 'wasting' budget on food at parties where everyone pretends they're on a juice diet. You're simply helping the greater good by eating.)
4. Dress like yourself!
Unless the event has a specific dress code, don't let an outfit choice become an issue for you. I have a heels-hating blogger friend who would carry a pair of stilettos around until she got to an event. For a year. Because she thought that's what everyone expected. She is now much happier (and, as a result, sticks around at events for longer) in her faux snakeskin loafers.
She is a reformed nutjob. Don't be a nutjob.
5. ENJOY!
Learn about new products, meet new bloggers, support new brands, take beautiful photos, tweet, Instagram, drink brightly-coloured cocktails, and shake your bum around when you've had one too many. Blogger and media events have made for some of the best times I've had in the past few years. I hope they do for you, too!
If you have any more questions, don't hesitate to e-mail or tweet me.