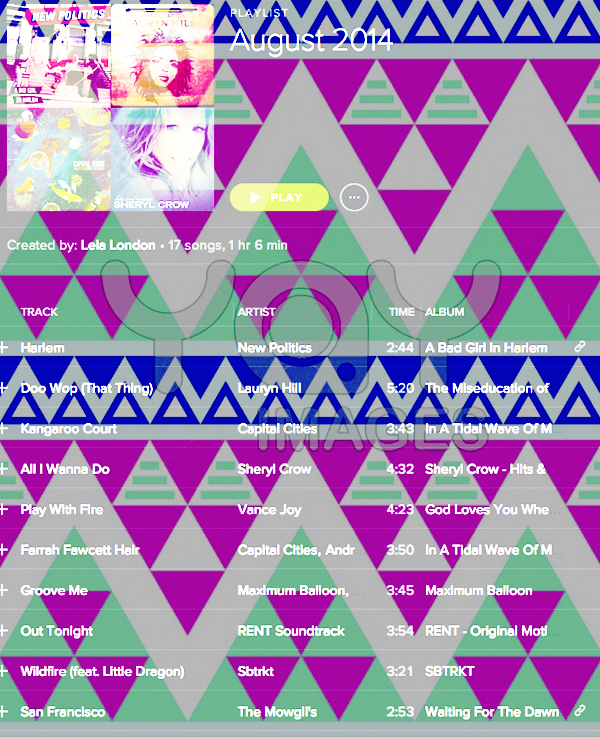 For this month's free Spotify playlist, I put the breaks on before I filled the entire list with Sheryl Crow's greatest hits…
Something about summer and Sheryl, am I right?
Instead, I have popped a few old school jams with some of my most modern favourites. These are the choons you should be waking up to, listening to on your way to work, and playing for your friends before you paint the town red. Or whatever colour makes me not sound like an eighty year old.
(Need to catch up on last month's? Click here for July's free Spotify playlist.)
(Download Spotify here. It's free!)
Track listing:
Harlem by New Politics
Doo Wop (That Thing) by Lauryn Hill
Kangaroo Court by Capital Cities
All I Wanna Do by Sheryl Crow
Play With Fire by Vance Joy
Farrah Fawcett Hair by Capital Cities
Groove Me by Maximum Balloon and Theophilus London
Out Tonight from the RENT Soundtrack
Wildfire by Sybtrkt
San Francisco by The Mowgli's
Pumpin Blood by NONONO
Trojans by Atlas Genius
Breezeblocks by alt-J
Soak Up The Sun by Sheryl Crow
Ways To Go by Grouplove
I Lived by OneRepublic
Cheers (Drink To That) by Rihanna