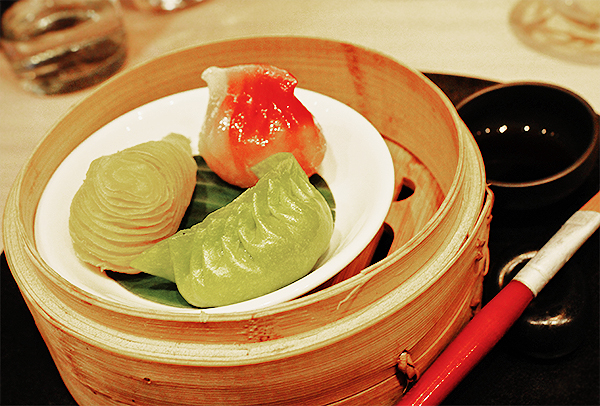 Since my last trip to HKK, I have awaited an excuse to return. 15-course meals call for an occasion, to say the least.
Thankfully, the restaurant chose to celebrate Chinese New Year with a ten-course culinary journey through the country's most influential provinces and traditions. Hello, occasion!
With eight courses and two desserts awaiting approval, my multi-continental best friend and I settled in with a glass of champagne and began a three-hour feast. As we launched to regale months of travel tales, the first dish arrived: from Suzhou (Jiangsu), marinated Duke of Berkshire pork with Osmanthus wine jelly.
Reality very rarely meets expectations, but this dish surpassed them. I had forgotten just how good the food really was. Even the next plate – a revival of the cherry wood roasted Peking duck from Beijing (Shandong) – seemed more delicate and flavourful than I remembered.
Shortly thereafter, I paused to meet my soulmate: the rhubarb margarita. I wouldn't typically go for cocktails with a tasting menu, but I had to make an exception for HKK's blend of Tapatio Reposado tequila, rhubarb, lime, vanilla and Falernum liqueur (finished with a vanilla and chilli rim). It is, dear reader, even better than it sounds.
Next up for consumption? The paintbrush-accompanying dim sum trilogy (from from Guangdong). Similar to the version I obsessed over during my last visit, this menu's offerings were as moreish as they come.
Keeping things light as we worked through the middle of the menu, 'Monk Jumps Over The Wall' soup (from Fujian) and pan-grilled Chilean seabass in Sha Cha sauce (from Hunan) followed, leading into jasmine tea smoked poussin (from Anhui) before landing on The One: from Zhejiang, braised King soy Wagyu beef with Merlot. A heartbreaker.
Knocking another one out of the proverbial park, the savouries finished with chargrilled New Zealand scampi (from Sichuan), quite seriously securing the entire menu a 10/10 rating. Perfect portions, unusually sumptuous flavours, and a variety of techniques executed to perfection. It doesn't get any better.
To finish? A trio of dark chocolate dumplings with yuzu and ginger infusion (a devilishly good treat), followed by a cacophony of white; sheep's milk mousse, pandan curd and caramelised puff rice.
As we wrapped up our tales with the meal itself, I was once again making a mental note to find creative excuses to return. Clients, expect one hell of a lunch meeting coming your way.