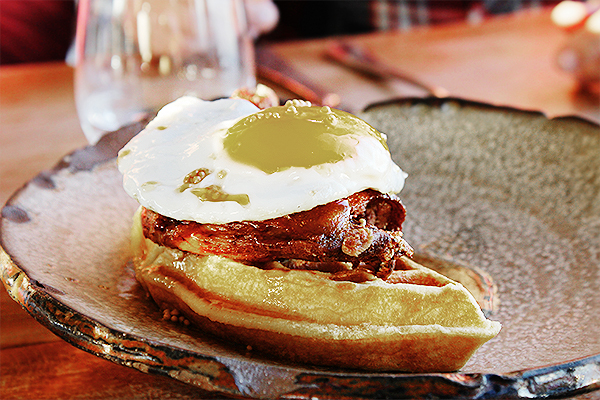 Duck & Waffle is one of those rare, delightful restaurants ideal for tourists and Londoners alike.
For tourists, you have 24-hour availability and floor-to-ceiling, 40th floor views of London town. For Londoners, you have all that and some stellar British and European cuisine that won't empty your new Burberry cardholder.
My latest visit was part of a project I filmed last month but I won't give the game (or the views!) away just yet.
As you step past the ropes into Heron Tower and rush to the windows of the restaurant's transparent elevator – even at 5am – it feels like you're seeing London for the first time. With each floor ascended, the panorama slaps you in the face with an additional landmark. It is a true spectacle.
As is the food. After filming, our crew of eight ordered up a storm. A few of us went for their eponymous staple (a fried duck egg atop crispy duck leg confit atop a belgian waffle – mustard maple syrup optional), while the others picked out a variety of options that seemed a little less, well, 'drunk food'.
My personal favourite came, unexpectedly, in a vegetarian dish – Duck egg en Cocotte (a soldier-dippable creation of wild mushrooms, Gruyère, truffle, and egg).
Not to say the Ox Cheek Benedict didn't hold it's own. Before my first forkful, I would have found it impossible to recommend a delicious plate of slow cooked organic hen's eggs, ox cheek, hollandaise, and sriracha in this city.
Or a Full English (or House Breakfast as D&W call it) so sustainable and fresh. As 'Fulls' go, the House (pork and herb sausage, two organic eggs, dry cured bacon, grilled tomato, mushroom, hash brown, Scottish black pudding, and sourdough toast) is King.
As far as I'm concerned, Duck & Waffle is the only way to do a sunrise in London.