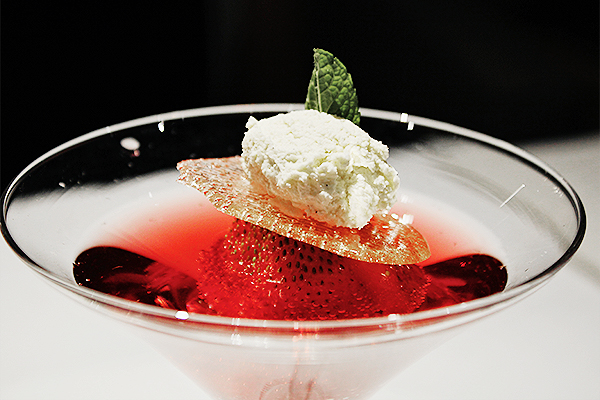 Though Harrods is one of my most-loved pit stops for all things luxury, my Harrods food explorations have been limited to decadent brunches in Laduree (also known as shopping fuel) and the food hall itself.
This was true, at least, until the department store's celebrated contemporary Chinese restaurant – Chai Wu – launched an eight-course tasting menu designed to be the "ultimate, extravagant experience for health conscious customers".
The Ladies Lunch menu, as it's monikered, is undeniably extravagant.
What started as a glass of champagne alongside delicately steamed XO sauce soy beans quickly segued into lobster & sea bass crystal dumplings which, frankly, I could have devoured an ovrtflowing bamboo steamer of.
Chased with wheatgrass and avocado shooters (fellow green juice addicts will adore this creamy treat), we then moved on to a few increasingly substantial courses. First, a 'Beauty Bucket'/slate of teapotted poached Shanghainese chicken in a clear soup with the option of salty collagen jelly followed by crispy, charcoaled salmon marinated in Manuka honey, Shaoxing wine and mandarin. The latter being the irrefutable Chinese quintessence of food porn.
Though pudding came in threes, the earthy green tea fondant took the pun-less cake. Served with milk and collagen ice cream (natch), the incredibly light fondant practically bled antioxidants.
The other 'puds' – fruity edible lipsticks and a little candied strawberries & cream delight swimming in champagne – were rather special, themselves. This is a tasting menu not to be missed.
(The menu costs £70 per person and is served from Sunday to Friday, 12pm until 5pm.)