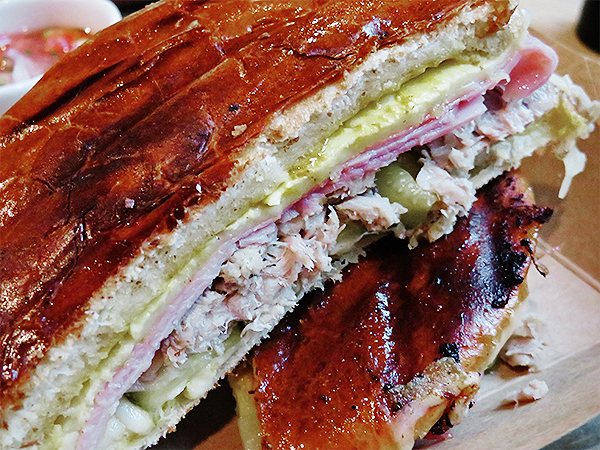 My last visit to The Forge (then Forge and Foundry) took place over two years ago. Since then, the most exciting change for the venue has been the launch of The Forge Cantina.
The Cantina – an authentic Latin-American culinary residency – has found a home in The Forge's upstairs bar and kitchen area which, thankfully, also looks over the venue's popular world music event space and stage.
Though the Cantina is open for both lunch (Friday-Sunday / midday-2.30pm) and dinner (Tuesday-Sunday / 5.30pm-10pm), I chose to take my beloved friend and empty tummy to dinner last night with high, spicy expectations.
The food – and pomegranate mojitos – did not disappoint. As men and women twirled and salsa'd underneath us, we began our feast by sharing an incredible deep-filled pabellon arepa (shredded beef, black beans, cheddar, guasacaca, and salsa fresca encased in a Venezuelan corn pocket).
The generous potion would be more than enough for an ordinary lunch or dinner, but we were here to go hard.
To continue, my friend opted for the pescado a lo macho (hake fillet with squid, prawn & mussels ina peruvian style tomato, onion + garlic sauce served with rice and salad) while I went full-force classic with a cuban sandwich. The Cubano combined pulled pork, glazed ham, swiss cheese, fresh dill pickles and mustard in the most perfect and familiar way, forcing me to sacrifice half of my accompaniment (plantain fries) so I didn't miss a bite.
Signing off with a plate of miniature churros (a bold move for two very full women), I was already checking next week's schedule to find an opening for a follow-up Cubano.