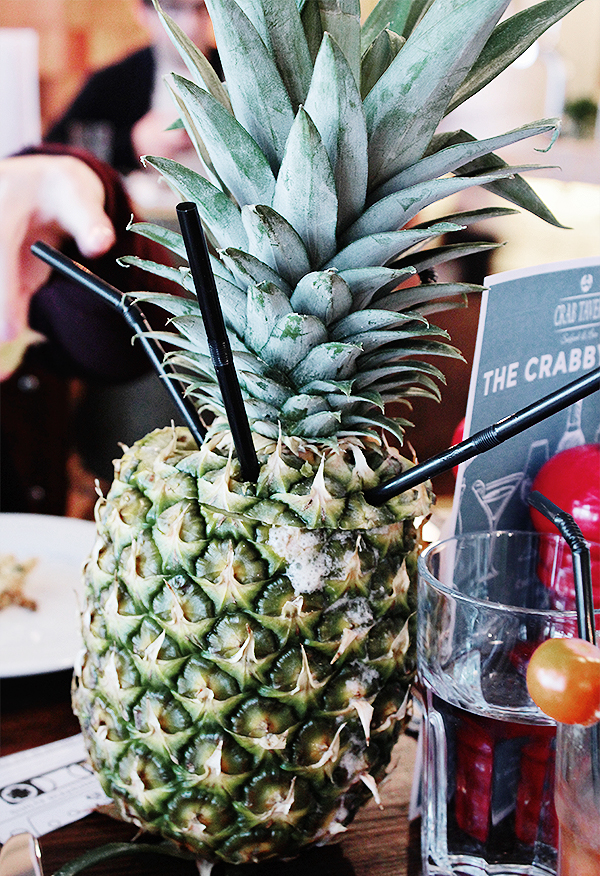 While brunch – as an ideology – can never really be bad, my recent experience has proved that no-one does it quite as well as Crab Tavern.
We're talking unlimited Bloody Marys, three moreish 'courses', and fancy-free 80s jams.
Launching last weekend, Crab Tavern's Lovin' Feeling Brunch took no time at all to rank as one of the best ways to spend a Saturday afternoon in London. On every second Saturday, the tavern will now host a live DJ (from 1-8pm) alongside unlimited drinks (from 1-2pm; beer, wine, Bloody Marys) and a set starter-to-dessert menu with your choice of mains.
Between colada-filled pineapple sips, my friend and I shared the restaurant's sharer starter (fried black pepper squid, Tavern pork belly ribs, dressed crab Caesar subs, crab and waffle, jerk-fried shrimp, prawn cocktail, and crispy white bait) before moving on to our incredible soft shell crab burgers (served with red pepper jelly and shiso old bay fries).
Your choice of mains spans from Eggs Royale to salads, but I see no point in doing anything less than crab bingeing at a place so renowned for their seafood.
By the time our dessert platter arrived we were committing to week-long fasting pacts but couldn't resist a few bites of everything (and more than a few bites of their incredible apple pie) while watching the crowd get their jazz hands out for an impromptu boogie.
Two hours of non-stop drinking and eating nestled under the bopping bangers of the Eighties will turn even the most sedate bruncher into a Fly Girl.