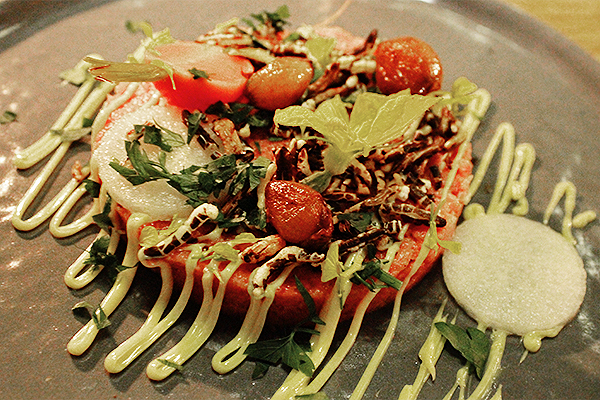 Amidst the omnipresent stroopwafels and cheesy chip cones of the city's tourists, I was eager to find at least one amazing restaurant in Amsterdam that was still in the thick of it.
First place took the form of Hotel V Nesplein's trendy backstreet restaurant, The Lobby.
Just a stone's throw from Dam Square, The Lobby serves impeccable and crowd-pleasing cuisine with heart, soul, and smiles aplenty. In their own words, they stand for pure 'gezelligheid'- the best that the city has to offer at the bar, at the table, on your plate and in your glass.
With our darling waitress' recommendation, we kicked things off with salmon tartare (a special), veal tartare (with the most incredible curry mayonnaise & gremolata), and two glasses of Larmandier-Bernier Blanc de Blancs Premier Cru, which took two sips to become my all-time favourite champagne.
Opting for another special as one of our mains (we're proud supporters of beef bavette and truffle), we also split the vegetarian option – a beautiful plate of pumpkin ravioli with fresh cheese, spinach, and a smoked onion & cepes sauce.
Choosing to keep the dream meal rolling, we then persuaded ourselves to order a two-course dessert; the best cheese board of all time (all from Kef) and a warm chocolate cake with salted caramel & peanut ice cream.
The Lobby is an absolute must.