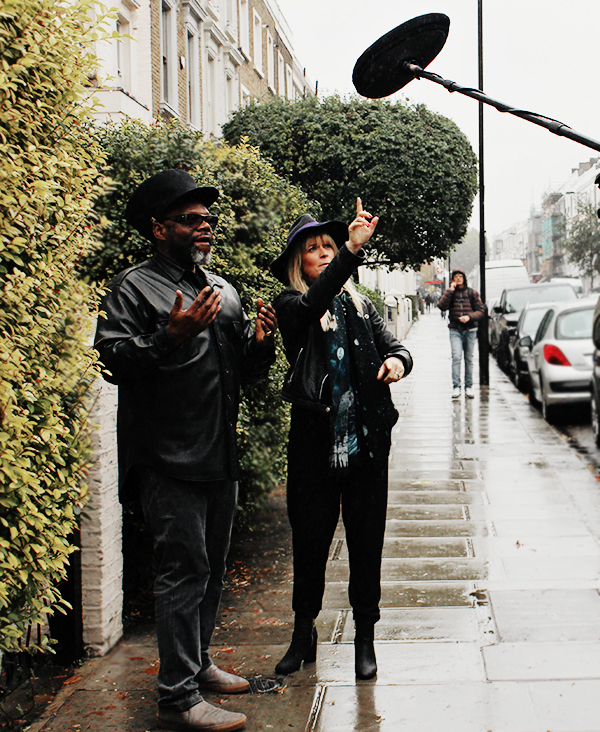 After a long day touring the streets of London with Edith Bowman and Jazzie B for a Sunday Socials short, Edith and I snuggled into a booth at Hotel Indigo Kensington to catch up over risotto and tea.
Warning: Girlcrush guaranteed.
Lela: What prompted you to get involved with the Hotel Indigo Sounds of the Neighbourhood campaign and Sunday Socials?
Edith: I find the dynamic between music and its local area interesting. I think music can have a powerful influence on a neighbourhood but equally be influenced by it. Whether it's a new track from an emerging artist or an iconic song from decades earlier, music will always generate a special energy and tell a unique story about an area. I like how each Hotel Indigo property is influenced by its local neighbourhood and the idea of celebrating the music from each neighbourhood felt like a wonderful opportunity to bring people together.
Knowing you do as much work with film as you do music, what is the relationship between music and film like for you?
Well, they are two things I am a fan of that I am lucky enough to enthuse about as a job. For me, they are the foundations and come together in a lot of ways but I love doing strictly music projects, as well. I did a programme called Guitar Star for Sky Arts last year whih was a talent show basically, but I absolutely loved it.
Was it an easy win for the production team to get you involved with a talent show or were you skeptical?
I was skeptical because I know that X Factor and those type of things have their places but I'm not sure what good they do for the music industry as such. And they definitely don't do much for people's state of mind. When they approached me about Guitar Star, the whole thing was about positivity; they didn't put anyone up that didn't have the talent, first of all, and then they put everyone up for the best possible opportunities for the duration, really. That was the winning point for me.
Do you think you'll do it again?
There is talk of a second series, so we'll see…but I would absolutely love to do it again!
With the concept of these shows so familiar to the average music lover, what do you think shows like "X Factor" are doing to the industry? Are they inherently bad?
I don't think they're creating a bad industry but they are encouraging the fickleness of the industry, which is unfortunately very much the British industry – more than any other territory. We seem so incredibly fickle – "what's the new thing/what's the next thing?" – and seem to be forgetting about all of the amazing stuff that is already here and already great. We need to celebrate, nuture, and protect it. In France, they have this scheme across radio where they have to play a certain percentage of homegrown talent which I think is a great thing.
Less rotation, in general…
Absolutely. It feels like we are on a conveyer belt now. More so than any other country in the world.
How do you think the average music fan can help?
I don't think it's anything to do with the fan side of things, it's more in terms of the other side – people who want to do it as a career just to become famous. For me personally, fans can really help by not being ageist about music. Not only appreciating "new music" in terms of new bands, but new music also from bands that have been around for ages. I play music to my kids all the time and the age of the artist or year of release is not significant to them. They'll go nuts to "Don't Stop Me Now" by Queen and Katy Perry's "Roar" – they just want that fun and that connection.
Can the bands themselves do anything to avoid climbing on the conveyer belt?
I think it's getting harder and harder. With things like the download phenomenon, artists have to make sure they are supported by their companies. Band like The Maccabees – who I've been a massive fan of for like ten years – have finally got a Number One album with their new album after touring extensively, touring so hard…
…putting in graft…
..exactly! I think with that kind of passion and hard work you get longevity. You reap the rewards.
Are there any "new" bands you're listening to at the moment who you feel will experience Maccabees-like heights?
I think Wolf Alice will definitely be around for a while but I also think of bands like Foals as a new band. Although they've been releasing records for 7/8 years, they still feel like a new band and they'll be around for ages. There is also a Scottish singer/songwriter called Rachel Sermanni – she's already released a couple of albums but no-one really knows about her yet – and I think she's going to be amazing. Her and Adam Holmes; he just released a record – Airs and Graces – that was nominated for Scottish Album of The Year and his voice will blow your mind.
How important is 'The Voice' these days if someone wants to be a musician as a career? Especially in bands?
For singers and solo artists, yep – you need a voice that will stand the test of time. In bands, I think longevity is more about staying true to yourself without sticking to a formula. I really like bands that challenge themselves.
Have your kids made you love any music you didn't expect to love?
Absolutely – especially pop music. He [her eldest son, Rudy] will come back from dance class singing One Direction and it's infectious, it's hilarious, he thinks he can breakdance and I absolutely love it. He's a real lyrics man. He loves Ryan Adams.
A broad taste in music!
Exactly. One of sings songs came on Radio 2 in the car and he just started singing along. I really encourage it. I really encourage an open mind. I spend a lot of time watching films with really bitter, old, twisted film critics that have already made their minds up about a film and it infuriates me. You can't judge a song before you've listened, you can't judge a book before you've read it…
And all of these mediums are so personal, anyway. How could you anticipate how a film will make you feel?
Exactly. We just watched Toy Story 2 again this morning, I'm off to watch the new Bond film [Spectre] tonight, interviewing the director tomorrow, then I'm off to see Kill All Your Friends…
One of the best films I've seen recently was Man Up with Simon Pegg. Great, really fun, lovely…and then Sufragette was fantastic, Steve Jobs was brilliant, Macbeth was phenomenal…there is just so much. We're spoilt. How can we not be open-minded?
Preach! Do you have an all-time favourite film or is that a ridiculous question?
I think one of my favourite films in Star Wars, I mean, have you seen my scarf? [Shows me her Star Wars scarf from inside her jacket]
[laughs] So the build up is killing you?
[Edith starts to whistle The Impirial March]
[…a good few minutes of nerd giggles later…]
Okay, okay! Back on track! Before you met the legend that is Jazzie B, did you have a preconceived idea of him?
Weirdly, I still have Club Classics Vol. One on vinyl from when I was about 15 and all throughout filming today I had it on Spotify in the car, just singing along. He's like the Godfather of soul in London. Seeing the places he loves and seeing the playlist he put together for the Sunday Socials, I just feel like he is such an important figure in London. Not just musically, but his social skills…the things he's done for black music and black communities in London. He's just exactly as great as you would expect. I can only hope people say the same about me!
Without a doubt, Edith. Without a doubt.
(In Liverpool or Glasgow and want to give Edith & her fantastical musical cohorts some love? Check out Hotel Indigo's final few Sunday Socials here!)