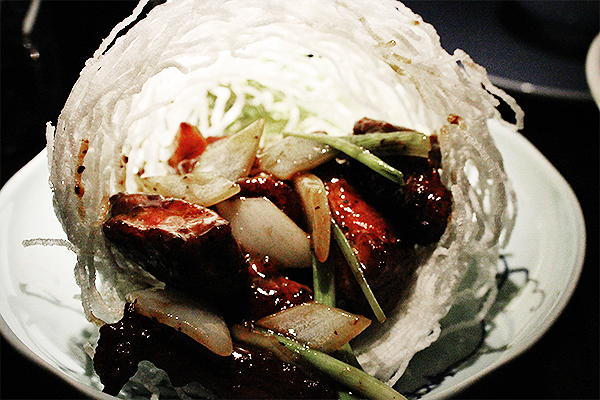 In Cantonese, dim sum literally translates into 'touching the heart' and long-term readers will know I take the tradition to heart.
When Chef Ho Hip Wah of Hakkasan Hanway Place unveiled "Dim Sum Sundays" (a 6-course seasonal tasting menu packed with the tiny treats) I called upon my dim sum-loving friend resources and booked it to the restaurant's stunning underground dining rooms.
Each guest can choose to indulge in the menu alongside an award-winning cocktail of their choice and a classic beauty loose leaf tea (our choice) or a cocktail, half bottle of Louis Roederer Brut Premier NV Champagne, and digestif cocktail for only £10 extra (#regrets).
For three hours, our plates played compere to a slew of show-stopping courses; crispy duck salad with pomelo, pine nut & shallot, har gau, scallop shumai, Chinese chive dumplings, duck & yam bean dumplings, royal king crab & truffle rolls, baked venison puffs, smoked duck & pumpkin puff, golden radish crab meat pastries, XO seafood & water chestnut lettuce wraps, stir-fried black pepper rib eye beef with merlot, seasonal veg, ginger & spring onion fried rice, and – finally – your selection of dessert.
Even if you think you're too full for the Jivara bomb, order the Jivara bomb. You will never see milk chocolate, hazelnut praline, and "rice krispies" combined in such a way.
If you're looking for the kind of weekend cheat meal that actually makes a workweek of soups and salads worthwhile, Dim Sum Sundays is your answer.