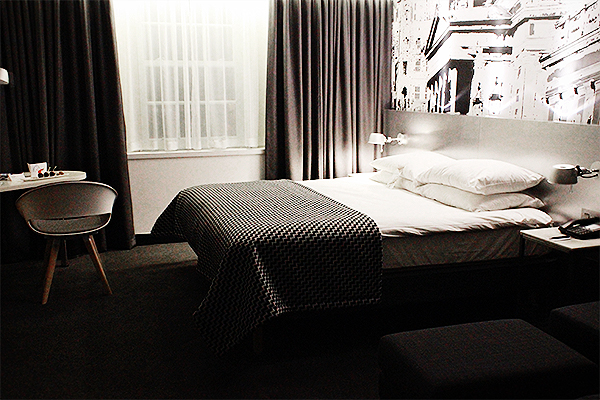 I take pinky promises very seriously.
I fell fast and hard on my first trip to Edinburgh. So much so that I returned for the second time (and my second 48-hour stint) only one month later.
This time, I stayed in one of the beautiful suites at the city's super-central Radisson Blu on the Royal Mile. The hotel is actually in the last stage of a three-part contemporary refurbishment and – bar a few tweaks left to do in the gym and spa – is a shining collaboration of local and luxury.
After checking in, shaking off the surprise downpour and touring the room (which you'll see in the travel vlog below!), there was nothing on my mind but food so headed straight down to the hotel's bar and kitchen, Itchycoo, to fuel for the night ahead.
After a few 'nibbles' over Christmas-themed cocktails (a feast which included the most incredible haggis bites imaginable), we moved onto a better-with-each-bite encore of scallops, steaks, and Malbec before jetting off to embark on a Hidden & Haunted 'ghost tour' with Mercat Tours'.
To Cliff's Notes the succeeding 24 hours, they entailed a lovely Scottish breakfast in the hotel's restaurant, an impromptu browse of the National Museum of Scotland, whiskey shopping (coughsamplingcough) at The Bon Vivant, an incredible & astoundingly authentic Mexican lunch at El Cartel, a rain-soaked run through the Christmas markets, an entertaining trip to the Spiegeltent to be mesmerized by Circa: Beyond, and a plethora of debaucherous live music adventures (because nowhere does that, my friends, better than Edinburgh).
Going in with extraordinarily high expectations, Edinburgh still managed to charm the pants off me.
Figuratively speaking.
Though it is that kind of city.
The following morning, our sleepy group of travellers spent as much time as possible enjoying our rooms (I, for one, am not to pass up a dangerous but indulgent 'work in the bath' opportunity in a hotel that offers complimentary bath salts) before heading off to the Royal Yacht Britannia.
Watch it all come to life in the video blog, below!