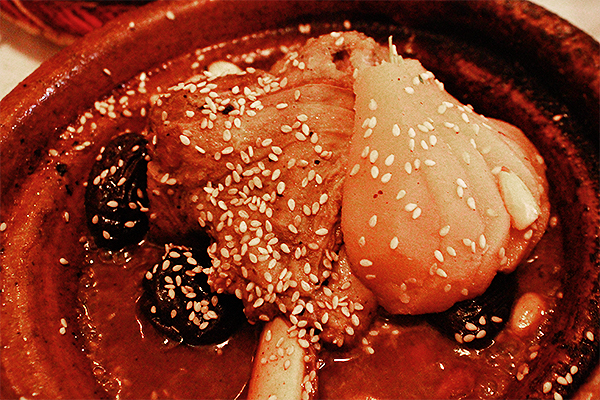 I have a love/love relationship with Morocco. Having travelled around the country twice, I am as fascinated by the culture as I was the day I landed and still count Fes as one of my favourite destinations in the world.
Authentic Moroccan food, however, called for a love affair of its very own.
Since feasting on a number of tagines and mezze on my first visit (blog research, natch) I have struggled to find a Moroccan restaurant in London with genuine culinary prowess. Especially for diners who aren't willing to spend the cost of a return flight on dinner.
If only I had been so smart as to search eponymously.
Tagine – in Balham – is a roaring example of Moroccan custom and cuisine. Though noticeably popular with the locals, the mood-lit room felt unusually humble from the second I passed through the entrance curtains. Especially endearing for a restaurant that serves = to my knowledge – the best Moroccan food in London.
After cracking open our BYOB bottle (tip: oak-aged Spanish and Lebanese reds pair really well with traditional Moroccan dishes), my dinner date and I embarked on a hopeful feast.
To start, we shared a bountiful mezze of houmous (with ouzania olive oil), pita, slata barda (sliced beetroot with honey, cinnanon, olive oil & balsamic vinegar), zaalouk (a aubergine, tomato sauce, parsley, coriander & olive oil compote), kefta mashwiya (grilled lamb kefta with mechouia dip & coriander), and carrot salad (with garlic, coriander & Moroccan spices) with a side order of almond and cinnamon-spiced chicken pastillas.
With the official seal of approval resting on the success of their tagines, we ordered the lamb barkouk and fish options, respectively, and spent the next thirty minutes making Meg Ryan in Katz Deli noises over our dishes.
While my own slow-cooked lamb shank (with prunes, almonds, poached pear & sesame seeds) ticked every conceivable box, my date's tender, tomato and spice-covered sea bass achieved "best meal I've ever had in London" status by his estimations.
Bar a spontaneous flight binge, this is the closest you'll get to Morocco in the foreseeable. Don't miss out.