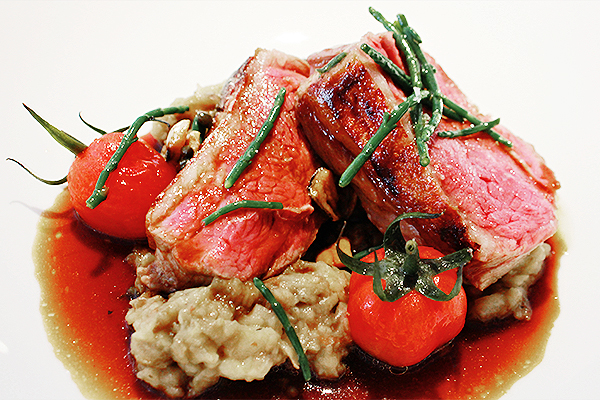 Thanks to its location and beautiful any-occasion atmosphere, I have frequented One Aldwych for a number of years. I have staycationed in the hotel during Fashion Week, spent many memorable evenings in the Lobby Bar, and indulged in my fair share of business lunches at Indigo (One Aldwych's all-day restaurant).
I have not, however, been to the spa nor Indigo since its sneaky gluten-free and dairy-free menu transformation.
With a healthy half-day retreat dreamt up to resolve said issues, my friend and I hot-footed it to the belly of the hotel for a spot of pre-lunch indulgence.
While she swam and sauna-ed herself to euphoria, I enjoyed a 75-minute OSKIA Signature Glow facial Utilizing a multitude of active ingredients in the brand's multi-award winning nutritional skincare, the facial is able to cater equally to both the health-lovers and self-rewarders. We're talking cleansing, massaging, facial extraction, masks, and moisture – all capped off with a back massage using melted candle wax.
Fighting the urge to then fall asleep in the changing rooms, we left our underground haven and travelled two floors upwards for lunch at Indigo.
Though he doesn't promote the restaurant as such, executive chef Dominic Teague has grafted one of the most incredible gluten-free menus in London. As it has always been, the dishes are still heavily influenced by traditional British faire with a large focus on foraged foods. Just secretly, wonderfully, gluten and dairy-free.
Whilst being charmed by one of Indigo's genuinely lovely waiters, our 'ladies lunch' took charge of a man-sized culinary exploration: hand-picked Dorset crab (with potted shrimp & pickled mackerel), cured Loch Duart salmon (with citrus fruit, coriander & avocado), organic Rhug Estate lamb rump (samphire, smoked aubergine, capers & anchovies), a medium-rare single muscle rump steak (with roast shallot, hand-cut chips & soft herb salsa), crushed swede, and braised red cabbage.
Not forgetting fresh gluten-free bread so fantastically moreish it almost makes you cancel the rest of your order.
To tie the bow on the day, we shared Dominic's genius orange polenta cake (with toasted pistachio) and Amedei chocolate mousse (with honeycomb & almond milk ice cream) before saluting the hotel's special OSKIA Rose de Mai cocktails in the Lobby Bar.
I would be more than happy to Groundhog Day this retreat for the rest of my life.