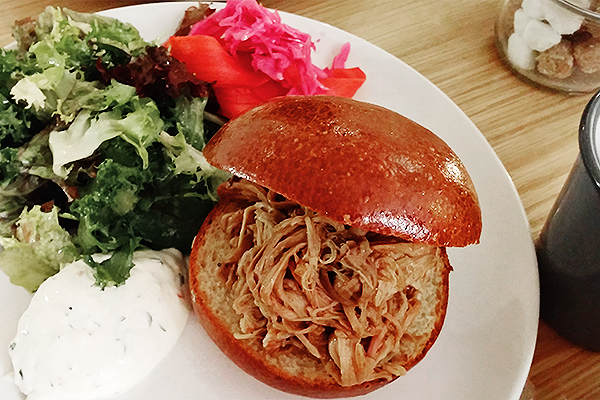 The highlight of 2016 may be a bit early to call, but it definitely stands as an impromptu trip to Penny at The Old Vic (the theatre's underground Pit Bar which recently spruced up and rebranded as Penny).
Inspired by The Old Vic's 'Penny Lectures' of the late 1800s (a creative forum for new thinking), the M1lk and Fields Café team have turned the all-day eatery into something ever so quintessentially London.
With The Lorax awaiting us on the evening's stage, my friends and I ordered up a shareable storm from the all-day menu.
Wanting to try a little bit of everything, we split the pulled pork in brioche (with raw pickled vegetables), chicken croquette (with kale, beans & a side salad), honey-glazed salmon (with spiced lentils, and roasted beetroot & parsnip), and a cheese board (Stichelton, Old Ford, Bartlett, and TUnworth with homemade seasonal chutney) as well as a small salad comprised of beetroot, shredded vegetables, ricotta, soy cashews, and a pad thai dressing.
Very little in the culinary world can trump Bartlett, for me, but I would find it impossible to suggest forgoing any of the aforementioned dishes. The food is guilt-free, well-sourced, and welllllll tasty.
If The Lorax wasn't enough to entice you towards Penny (you tough cookie, you!), it should help to know the restaurant donates a penny for each item sold at Penny to a charity inspired by the themes of the show on the main stage at the time.