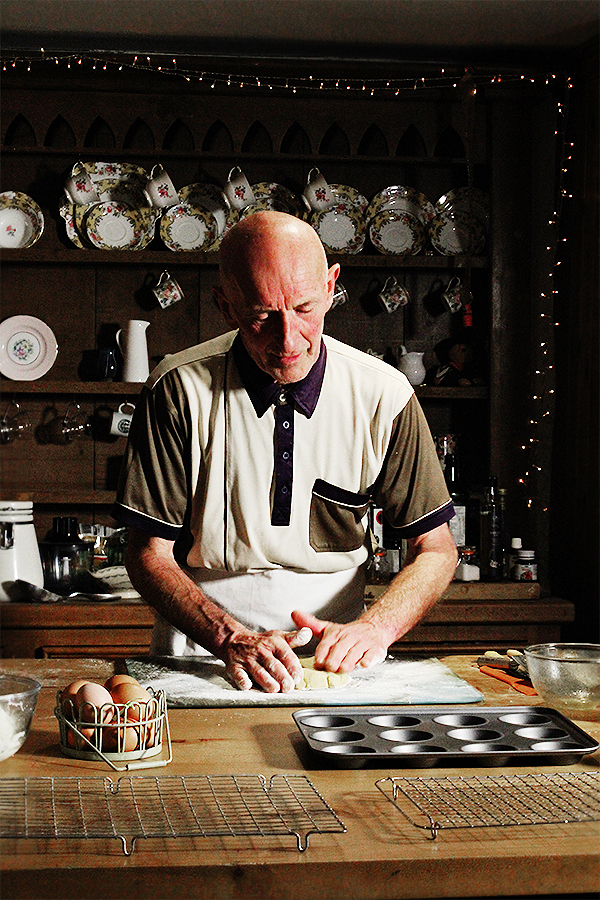 The last time I left Belfast I wasn't all that eager to return.
I loved it – I did – but I thought I had 'done' it; done the political tour, done the Titanic museum, and done the best food in the city (months later, I can still remember every bite of my dinner at Hadskis).
Boy, was I wrong.
To celebrate Northern Ireland's Year of Food and Drink (2016), I was invited to return to Belfast and tour its central and suburban culinary heroes.
No brainer, right?
Within an hour of landing at George Best Belfast City Airport I had checked in to my hotel, unpacked, and was sat down for meal one of 1000 at Cast & Crew. The real draw of which is the location. At just a stone's throw from Titanic Belfast (my favourite museum in the world), Cast & Crew put on a quirky, frill-free menu (burgers, stews, smoothies, et al) sure to suit anyone's palate.
Naturally, the grub preceded a trip to the four-floor Titanic and SS Nomadic which I will leave the vlog to show you just how nerd out over.
As the first day was a chance to get settled in the city, the next logical stop was the Belfast Christmas Market at Belfast City Hall. Though it isn't especially large, the market was ranked number one in the UK by the Daily Mirror and has a food-centric, local appeal. They even added twenty extra wooden stalls at the gates to support native food and craft producers' Year of Food and Drink accomplishments.
From Prosecco burgers to mulled everything, it was as savvy and festive as Christmas markets come.
The first of many foodgasms happened that very night at Howard Street. A Central, slightly industrial feeling restaurant with infallible dish after infallible dish. All local ingredients. All ethically sourced. The best of which combusted alongside a fillet Of Halibut (fondant potato, spinach, smoked Chorizo & white wine tarragon cream, respectively).
The following morning, we were up bright and early to meet Tracey of NI Food Tours at her beautiful 18th century thatched barn on the shores of Strangford Lough for a lesson in traditional Irish baking.
Joined by Fred – the local award-winning baker – I was given a crash course in soda breads, mince pies, tray bakes and more before devouring it all (and discovering/starting a lifelong obsession over dulse butter).
As our Christmas-themed food tour of County Down continued, we set off for Comber Christmas market to peruse best of the local producer's offerings – chutneys, breads, meats, and more.
Broughgammon, my personal highlight, set up a small farm in 2011 when they saw that a majority of male kid goats born to the dairy industry were being put down at birth unnecessarily. They decided to care for and rear the kids themselves and have since won multiple awards for their results; quality, healthy, and sustainable produce. They have even branched out into food trucks and harvesting courses.
Not forgetting Maggie from Made with Love, whose chutneys and jams have been paired with almost everything I've cooked in the succeeding weeks.
Having rustled up quite an appetite, we were pleased to find Indie Fude HQ in a hidden courtyard of Comber (at roughly 6 High Street) where we were able to comb through some of their most delicious local faire over a Jawbox cocktail.
To wrap up the tour,local brussel sprout farmer Andrew Herron took us behind closed leaves to walk us through a day in his life on the Ards Peninsula. As it was Christmas time, the 'biz' was as high-stress as it could have been but Andrew's passion and love for his work – from growth to harvest (and sometimes including Comber's famous potatoes) – was infectious. Our time felt precious. And important. As buzz phrases like 'slow food' and 'locally sourced' can be so easily adopted, Andrew's sprouts were their conscientious reality.
After a few hours of work (and a near-freeze experience you can enjoy in the vlog), it was time for dinne at The Merchant Hotel.
Sound familiar? You've probably caught BBC's Inside The Merchant – their documentary series following the Cathedral Quarter's eponymous and notorious grade A listed hotel.
The grandeur of The Great Room Restaurant alone is breathtaking. And that's coming from a woman who doesn't flinch over a Michelin star. Under the perfectly preserved Victorian architecture and chandeliers, The Great Room is renowned for a fine dining experience that extends all the way to a water menu.
You read that right.
We spent the evening luxuriating in a 2 AA Rosette-deserving Christmas menu. The best of which were the caramelised scallops (with confit pork belly, cauliflower & parsnip purée) and seared duck breast (served with potato fondant, pickled red cabbage & carrot purée), much to the disagreement of my Turkey Wellington-having accomplice (to be fair, the confit leg and sage & chestnut stuffing looks divine).
The following day we met with Wendy of Causeway Coast Foodie Tour to commence an exploration of pastures new.
Starting at the home of Broighter Gold in Limavady, we were introduced to the brand's phenomenal collection of rapeseed oils by Leona Kane who – with her husabdn Richard – farm and produce their internationally-celebrated oils on the same historic piece of land where the Broighter Hoard of treasure was unearthed in 1896.
Their black truffle & wild mushroom and 24-carat gold rapeseed oils are total gamechangers.
Appetites naturally fired up, we stopped for fresh scones at Crannagh Coffee Shop & Bistro before a convenient stop at Giant's Causeway – Ireland's first World Heritage Site and a necessary disruption on the 120 mile Causeway Coastal Route stretch from Lough Foyle to Belfast Lough.
Formed over 60 million years ago when molten lava cooled suddenly on contact with water, the Giant's Causeway is an awe-inspiring landscape of mostly hexagonal basalt columns that offer a unique citadel of sights, hikes, and climbs.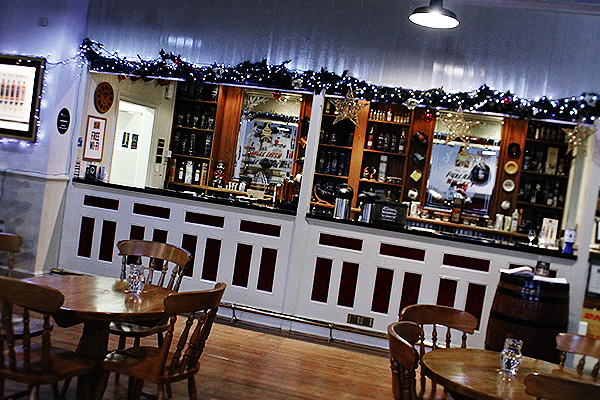 With historical sights abounding, we couldn't leave the area without a visit to Bushmills Distillery; in 1608, James I granted a royal licence to Sir Thomas Philips for the production of "uisce beatha" (water of life in Gaelic, or whiskey as we know it today) that has resulted in the world-famous whiskies of Bushmills.
We didn't have time for the fully-fledged tour but did pull up a few seats in the bar to enjoy secret recipe hot toddies and mince pies.
'Tis the season.
Last but not least of the Causeway – Tartine at the Distillers Arms; contemporary, veggie-loving dishes with no fuss and the most hospitable staff in all of Ireland…
…where everyone seems to feel like family after five minutes.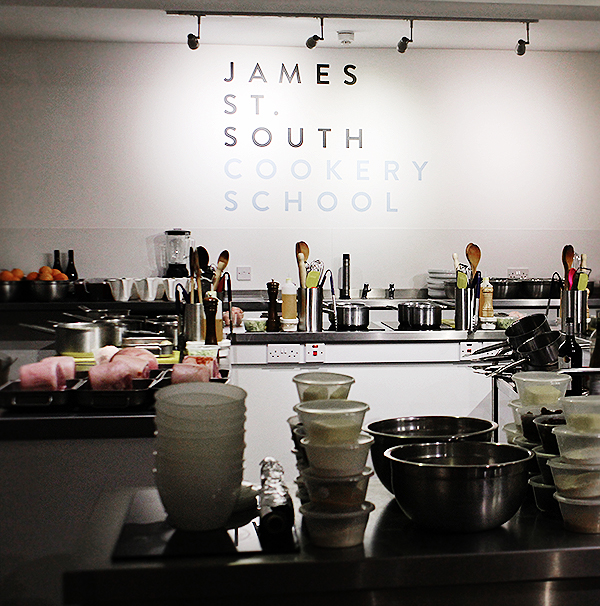 A few working hours later, we set off for the unexpected zenith of the trip; a course in "Effortless Christmas Entertaining" at the James Street South Cookery School that offered infinitely more thrills than frills.
With the owner of James Street South and Hadskis – my aforementioned Belfast food favourite – to boot.
From the initial introduction to a pack of printed recipes to the final result (a Christmas dinner I would pay £50+ in a restaurant), Niall turned almost every 'student' of the cookery school into a quasi Christmas masterchef. Within hours. It was the most informative, entertaining, and rewarding class I've ever taken.
I literally went from someone who hadn't dared taste a Christmas pudding to someone who steamed up something so delicious everyone (including fellow dubious pud-eaters) asked for thirds on Christmas Day.
On our final day, we took a welcome break from shoving things into our mouths to embark on a Belfast City Tour. With a continued interest in the city's political history, I was pleased to delve deeper into many of the places I had visited previously and explore street art I didn't have enough time to visit on my first trip.
The umbrella-topped murals of Commercial Court are especially striking.
(This is thanks, in large part, to my fantastic tour guide Billy Scott. A man who both knows more and can make up more about Belfast than any living soul.)
Spending the next few hours working, I missed out on the golden hours of St George's Market (therefore missing out on Broughgammon's 'Best Street Food Snack in the UK' taco). A blessing in disguide, as fate would have it, as the final food tour of the trip – Taste and Tour's Belfast Food Tour – fed me enough to last me a zombie apocalypose.
Starting at Co Couture, our guide – Phil – took us on an intimate tour of the city's most unique and unusual places to eat. Throwing in a few of his personal favourites for good measure.
Truth be told, I would have given a five star review for the introduction to Co Couture's chocolate fondue alone, but the tour got better with each stop; Sawers (Northern Ireland's oldest deli), the bar of Belfast's sexy new Bullitt Hotel, cocktails at The Merchant (once home to the most expensive cocktail in the world), et al. By the time we wrapped at Coppi (read: stuffed with cichetti and a porcini mushroom Ravioli, Parmesan & Truffle 'Duck Ragu' dreams are made of) I was on cloud nine.
And probably nine stones heavier.
Yolo.