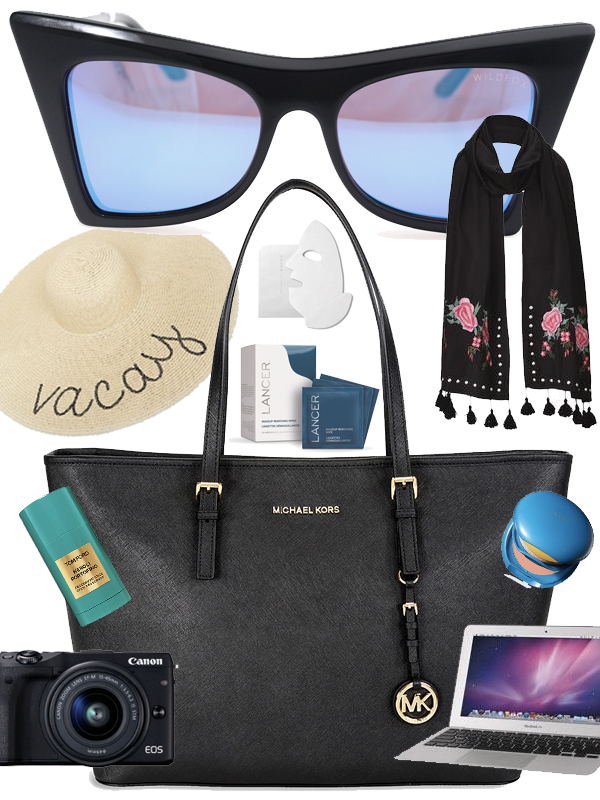 What Travel Bloggers Really Pack (and how they get rewards for it!)
The Equipment
First and foremost, I pack my life partner (my 11-inch MacBook Air – shop) and my new Canon EOS M3 (shop) which doubles up as a pretty stellar still photography and vlog camera. Though both are in their respective cases, I also cushion them in the centre of everything else I pack to ensure they don't move during turbulence or transit in general.
The Clothes
As ladies and gents that find ourselves in front of the camera as much as we're behind it, clothing tends to take up the majority of carry-on space. These days, a gargantuan and Instagram-friendly hat (like an adorable straw "Vacay" hat – shop) is as imperative as lightweight dresses I can accessorize for five days straight. Bonus points for crazy prints, reversibles, and things you can wear back to front for an entirely new look (you won't believe the number of reversible V neck dresses I have in my closet – shop). It is infinitely easier to throw wraps or scarves (like Very's embroidered gem, above – shop) over basics to dress them up or down and – generally being lighter than clothing – gives you many more space-efficient style options.
As I can rarely be bothered to wear makeup when travelling, I also highly endorse a pair of face-distracting sunglasses (the Wildfox Ivy Deluxe cat-eyes are my current obsession – shop) to do all the face-beautifying you need in seconds.
The Beauty
As a rule of thumb, I do not go near make-up or liquids in my carry on (see: sunglasses, above) but still like to look after my skin. The vitamin-rich Lancer make-up wipes (shop) cleanse and nourish unlike anything I've used before and Shiseido's UV compact works as an intensely moisturising – yet dry – SPF for both face and body (shop). Rather than any sort of "real" fragrance or liquid, I also pack double-duty Tom Ford Neroli deodorant (shop) which smells like the Italian Riviera and keeps you fresh all the live long blogger's day.
If the trip is adventure and/or fitness-heavy, I'll sometimes even pack a Suquu face stretch mask (shop) to wear on the return flight to luxuriate in travel vibes as long as possible.
The Unexpected
Though I can make a good carry-on pack last seven days, most airlines will allow women a handbag plus a carry-on so I tend to pack my everyday bag inside a larger handbag for longer trips. By doing so, I can fit any extra clothes around my day bag and get about 30% more packed than I would with my carry-on alone. Each airline has their own dimensions for what qualifies as a "handbag" so do check it before you go, but bags of Michael Kors' "JetSet" size (shop) tend to work without raising a single eyebrow.
This is also where I keep my Groupon (shop) vouchers so I don't lose them in my inevitable carry-on chaos. Before going anywhere, I always check the site to see if any unique experiences or restaurants have deals available during my stay and have saved £100s in my adult travel life by doing so.
How do I get rewards from packing?!
Through the Avios eStore, you can spend the travel rewards currency (aka your Avios) gained from everything you already buy – including everything I've linked above – on flights, hotels, car hire, experiences and more! Avios has over 1,000 retail partners including ASOS, M&S, John Lewis, Booking.com, Apple and many others who allow members to earn Avios as they shop simply by accessing their sites through their portal. You pay nothing more and than you would otherwise and can quadruple your travel experiences by doing so!
Even better, this week (Thursday 25 May to Wednesday 31 May) launches the Avios eStore triple week where you will earn triple Avios on all purchases made via the eStore from selected retailers (including John Lewis, Currys, Argos, ASOS, Screwfix, Debenhams, and Apple). We're talking a click or two away from return flights to Paris, guys – don't miss out!