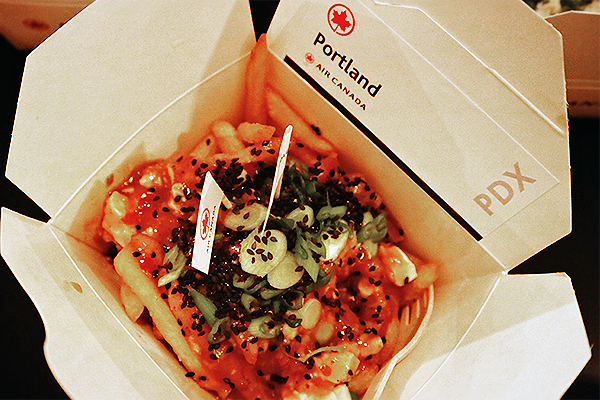 This side of the pond, I've had nothing but tragic poutine experiences.
The Canadian culinary favourite (think jazzed-up cheesy chips with gravy) has, in my experience, only ever been executed well by Canucks.
The Air Canada Poutinerie in Shoreditch, however, makes this week an exception.
To celebrate their #CoolNotCold Winter destinations, the airline has taken over a two floor cafe on Kingsland Road to dish up a wordly interpretation of Canada's iconic comfort food.
The offering includes Boston's Loaded Crab putine (fries, fresh crab, gouda cream sauce, scallions & blue cheese crumbles), Cancun's Costa Maya Mole (sweet potato fries, queso fresco, mole sauce & micro coriander) and the unbelievable Portland's Vegan Chili Fries (fries, Szechuan chilli gravy, bean curd, sesame & spring onion) – all priced at £3.50.
Every poutine purchase also rewards you with the chance to win two Air Canada flight to any destination of your choice from its network of over 200 #CoolNotCold destinations on six continents (all you need to do is post a picture of your poutine on Instagram or Twitter with the hashtag #CoolNotCold, tagging @aircanada)!
For the price, quality and vibes (I was having so much fun I didn't realise they were closing until I had to be thrown out) it can't be missed.
(The shop is open until this Saturday (December 11th) at 52-56 Kingsland Road, London and poutine fans new and old are welcome to set down their Canadian beer or wine to enjoy a virtual reality experience which transports them from the mean streets of London to the skies of an Air Canada flight while you're there.)