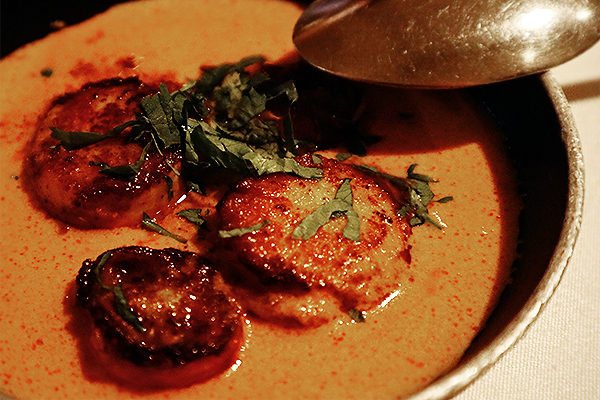 Unbeknownst to my former self, one of my favourite Londoners managed to eat her way through years in this multicultural mecca without ever trying Indian food.
That is, until I got involved.
Wanting to introduce her to one of my all-time favourite cuisines, I hedged my bets on the rave reviews of Thali's traditional North Indian faire and booked in a dinner date.
Playing our respective parts as the spice-fearful (my date) and Kashmiri-obsessed (sup), Thali beyond delivered.
Over a bottle of red, we sampled their lightly spiced grilled scallops, mint & coriander packed spicy crab patties (a moreish delight) and vegetable samosas before diving into the deep end of their spiciest waters.
For myself, the Goan fish curry (Cod fish matured in my beloved Kashmiri red chillies, coconut & tamarind) met every complexity its spices demanded. For my chilli-wary pal, however, the comforting chicken tikka makhani (herbed butters, fenugreek, creamy fresh tomato sauce, et al) provided the perfect cherry pop to a well overdue culinary exploration.
Even if I managed to clear the dish of cumin-spiced saag paneer (with spinach and garlic) before her Peshwari Naan got the chance to scoop so much as a paneer cube.
As a concession of curdlessness, the delivery of a small Indian rice pudding coaxed my date into fully-fledged Indian fandom.
Though they're not reinventing the wheel, Thali's authentic dishes offered more than an introductory meal demanded and managed to delight my customarily experimental culinary impulses through the very last grain of sweetened rice.