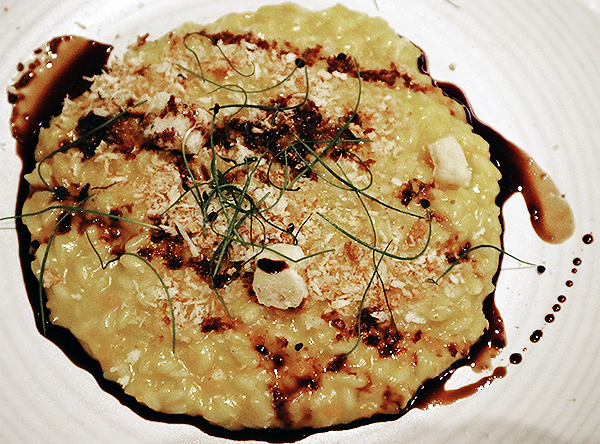 I am a little bit indecisive when it comes to ordering food.
Little bit in the way that Donald Trump is a little bit awful.
It's not so much that I'm a picky eater but that I'm someone who suffers from culinary FOMO on the daily. When I eat out, I want my choices to not only be better than the versions I could make at home but better than everything else on the menu.
Mercante have developed a rather magical way to do both.
This month, the authentic Italian restaurant launched a monthly 'no menu' concept supper club to showcase the seasonal delights of la dolce vita del cibo.
Head Chef Davide D'Ignazio's evolving four-course menu is revealed to guests on arrival and plays heavily on his home country's regional specialities.
At the supper club's nativity, we enjoyed a plate of truly succulent pork cheek (with opaline crackling, porcini carpaccio & celeriac puree), delica pumpkin risotto amaretti with parmesan crumble, sea bass (with a shockingly tasty fennel, olive & caper salad), and a pomegranate gel panna cotta. Each cooked at our side by David while we indulged in perfectly paired wines.
The recipes of which I would also sell a kidney for.
(The 'no menu' Mercante Supper Club experience is priced at £55 per person for and will run on every third Thursday of the month at 7pm. Advance booking essential.)