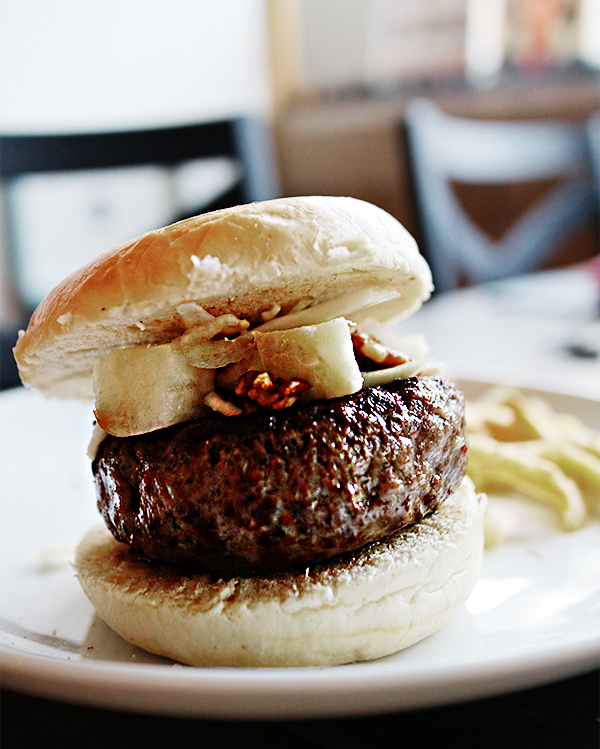 I get really excited to cook over the Winter months. Though I get a decent amount out of rustling up something special throughout the year, being forced to spend more time indoors offers a great excuse to test new recipes; in this case, HelloFresh's Pork and Apple burger recipe reimagined.
It is fast food done healthy and, with my little tweaks, a lunch or dinner full of festive flavour. Treat yo' self.
Pork and Apple burger recipe (with rosemary chips and festive tweaks!)
Ingredients:
2 sprigs of rosemary
2 small potatoes
1 green apple
250g pork mince
2 brioche buns
A few raisins and walnuts (if preferred)
Cinnamon
A few walnuts/raisins (optional)
Directions:
1. Take the pork out of the fridge 40+ minutes beforehand to get it to room temperature.
2. Pre-heat the oven to 220 degrees and strip the leaves from the rosemary before chopping super fine.
3. After scrubbing the potatoes under water, chop them into fries or chips and toss in a swig of olive oil. Add the rosemary and salt/pepper to taste.
4. Cook on the top shelf of the oven for roughly 30 minutes, turning once.
5. Peel the apple and grate 3/4 of it into a bowl. Add the pork to the bowl with some cinnamon (to taste – I like a lot), high-quality ground salt and pepper.
6. Form the mixture into 2 patties (they're best if they are held together, not pushed together – it allows the meat to cook evenly).
7. Heat 1 tbsp of olive oil on medium-high heat in a non-stick pan. Once hot, place the patties in and cook for roughly 5 minutes on each side. It is important for each side to form a crust before flipping so they don't break up.
8. Cut the remaining apple into small chunks and add walnuts and raisins, if desired (they tie all the flavours together beautifully).
9. Get everything out of the heat, place your chopped apple mixture on top of the finished burgers, and chow down!