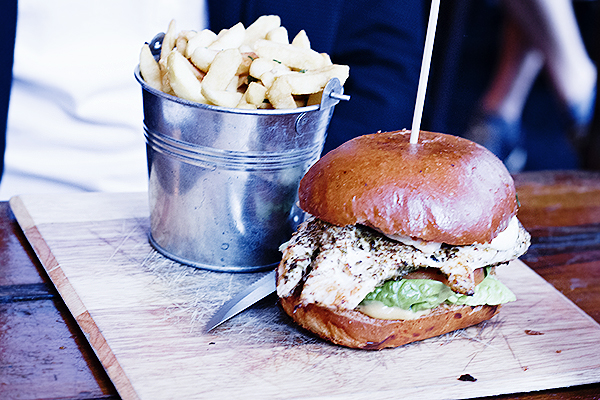 I have never made a particular effort to do pub reviews because 1) pubs – bar gastropubs – serve notoriously awful 'food' and 2) no-one in their right mind takes an SLR to drunkytown.
Natch, an exhausted end-of-day pit stop at The Old Crown Public House tossed the rules out of the proverbial window (the pub has some rather lovely floor-to-ceiling windowed doors that I wouldn't dare to throw a rule at).
Situated between Tottenham Court Road and Holborn, the little pub was full of surprises; piña coladas (a traditional pub must, AMIRITE?), helpful and chirpy waiters, and some positively perfect pub food.
To refuel, The Manfriend and I decided to attack the 'Colonel Can Do One' burger (butterfly chicken breast, American cheese, fried crispy onions with sweet chilli sauce), a pulled pork-loaded 'posh dog' encased in a fresh baguette, and spicy chicken wings with homemade chilli sauce. The verdict? Delightful, simple, moreish meals that are heavy on the taste and light on the wallet.
It is a thumbs up from this Michelin-obsessed woman.