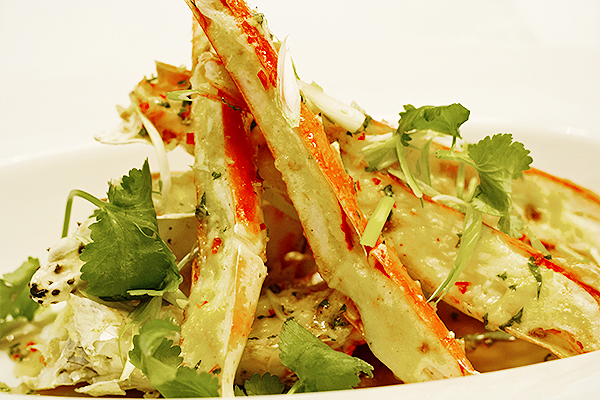 Looking for great seafood in London? I would strap on your water rings – there are some rough seas ahead.
Having experienced each end of the spectrum – both gristly scallops and unblemished caviar concoctions – I can now confirm One O One as one of my favourite fishy spots in the city.
Warming my expectations with the almost-immediate delivery of fresh bread and curled seaweed butter (an unexpected phenomenon), it took me no time at all to fall in love with One O One. Not counting the restaurant's quality and understandably steep price tags, One O One is not very 'Knightsbridge' at all; it battles all hoity misconceptions with a relaxed atmosphere, friendly staff, and a curtained separation from the Sloaneys.
And with such a lack of pretention, you would almost argue the residence of Michelin-tracked chef Pascal Proyart (see: the Sea Grill in Brussels and Le Divellec in Paris).
That is, until you're greeted with a dish like Proyart's wild scottish scallops – these relatively enormous molluscs are pan-fried with duck foie gras, Jus Gras wild mushrooms & spinach, and Vermouth Chives Beurre Blanc. Melancholic molluscs, if you will.
But that (alongside warm and wild sweet chilli-ginger Norwegian red king crab legs) was only the starter.
Further into the meal, The Manfriend and I swapped many forkfuls of his line-caught yellowfin tuna 'steak tartare' and my own decoration of Norwegian white halibut. The tartare dream-teamed it with an accomplice of hand-cut goose fat chips, but were a shadow in the victory of the roasted halibut's own plate friends; prawn dumplings, Paimpol coco beans & black truffle cassoulet, and Nantua sauce.
While I barely remember dessert (sweets and seafood are not my thing), I remember every single flavour and texture of the aforementioned cassoulet.
If any budding chef was looking to create a signature dish, I would use One O One's halibut as your benchmark.
(And if that doesn't get you there, I don't know what will…)