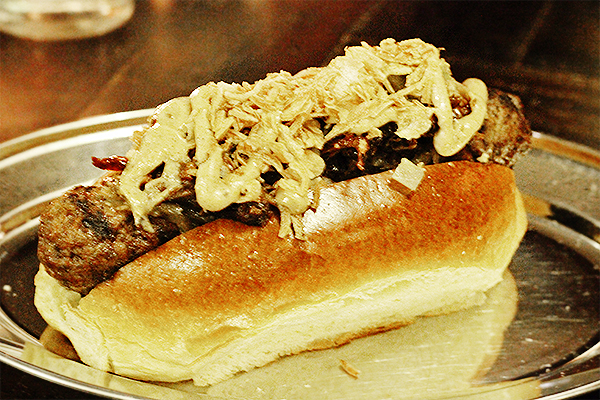 From the very day my male best friend and I met, we bonded over an appreciation of 'dirty' food. In fact, for a woman who sings the praises of kale and spirulina to anyone who will listen, I have a penchant for massive dirty feasts whenever we catch up.
The second I found out about Dirty Tommi's, he was guaranteed an invite.
Dirty Tommi's, you see, is a limited time Sunday pop-up collaboration between Tommi's Burger Joint and Dirty Bones. Being held at the latter, the pop-up combines some of Ross Clarke (Dirty Bones) and Siggi Gunnlaugsson's (Tommi's) most celebrated dishes alongside some special creations.
The evening went a little something like this:
– Oozing over my dining partner's Dirty Bounty hard shake (Bacardi gold rum, Wood's overproof rum, coconut cream, chocolate ice cream, milk, chocolate sauce) while sipping a rather dangerous cocktail of my own.
– Glazing my face in the homemade barbecue sauce of the sticky pork ribs and trading one for a lemon, chilli and spring onion-covered chicken wing.
– Diving headfirst into the incredible creation that is the Tommi's Burger Dog; Tommi's burger served doggy style with confit onion, Dirty Bones short rib, crispy shallots, dirty cheese sauce, and dill pickles
– Wishing I had the appetite to go for my companion's Dirty Mac Burger; Tommi's beef patty, Dirty Bones steak glaze, and charred lettuce, all topped with Dirty Bones mac and cheese
– Managing to get halfway through an order of Sloppi Dirty Fries before realising there would be no way I'd have room for the milk and cookies I had targeted on my earlier menu perusal…
-…but knowing that triple cooked fries covered in Tommi's sloppi joe mince, Kimchi sauce, spring onions, and gravy (optional) was so worth it.
Dirty Tommi's is open – for now – every Sunday (that's tomorrow!) for lunch between 12-4pm and for dinner between 6pm-11pm. I urge you to go so I can keep Burger Dogs in my mealtime inventory.