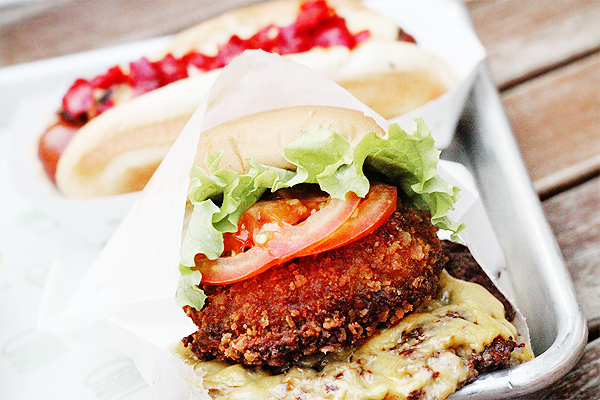 Since New York's most infamously queued burger joint moved to London, I have spent more than a handful of lunchtimes at the Shake Shack in Covent Garden.
Most recently, I headed to the market building to sample the SmokeDog and Pumpkin Pie Oh My Concrete on their limited edition Halloween menu. Because nothing keeps an American from pumpkin pie.
Though I was craving a Shack Stack – their all natural cheeseburger and Shroom burger (a crisp-fried Portobello mushroom filled with melted cheese) topped with lettuce, tomato, and ShackSauce – on the day of this visit, the Manfriend's SmokeDog – a flat-top dog topped with cheese sauce, chopped cherry peppers and Wiltshire cure smoked bacon – was more than worthy of permanent menu residence.
After polishing off a perfect little bucket of crinkle cut cheese fries, we decided to wrap things up with a Conrete procession. My choice – the 'Pumpkin Pie Oh My' – was a starred and striped extravaganza; rich and creamy vanilla frozen custard blended with a slice of pumpkin pie from Cocomaya. A swoon and a half. (The gentleman's Sticky Toffee Concrete – a blend of vanilla custard, paul.a.young chocolate chunks, chocolate toffee, salted caramel sauce and malt powder – also received a rave review, though I may have been too engrossed in my own cup to dip a spoon in).
Today is the very final day the two Halloween specials will be available, so in the most American way I can offer, I suggest you haul ass to Shake Shack, like…now.
And for the foodies who miss the menu by a day or two – never fear! Next Sunday (November 9th), Shake Shack Covent Garden are collaborating with acclaimed chef Massimo Bottura (!) to release the limited edition 'Emilia' burger. There will only be 500 burgers available, but with the first 100 completely free, the burger made of a 100% Aberdeen Angus beef patty ground with cotechino sausage and parmigiano reggiano (and topped with salsa verde and Villa Manodori balsamic mayonnaise), AND Massimo himself in attendance, it is a burger journey well worth taking.