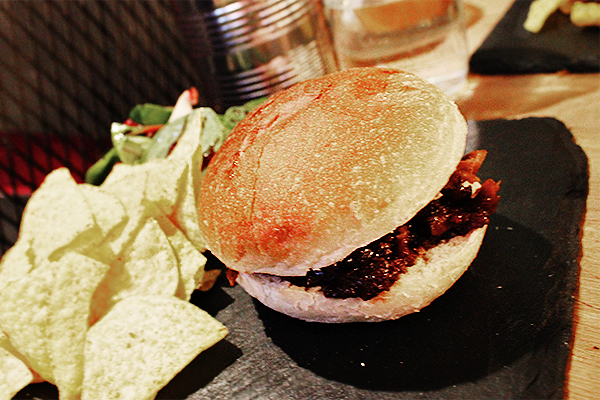 Having spent so many years parading around the foodie haunts of London, it is surprising how often great little cafes blur into the backdrop of busy commutes and meeting-hops. My latest not-so-hidden discovery? Foxcroft & Ginger on Berwick Street. A – dare I say it – hipster paradise.
In between beanies and bedheads, F&G's small Soho space is overrun with chopping boards of 'tortilla chips and…'; burgers, sandwiches, salads, et al. For the partner and I's lunchtime trial, we opted for shared bites of the Sticky Duck Burger (a moreish mix of chutney and chilli) and Foxcroft & Ginger's Chicken Burger (while the menu tantalised with kimchi, citrus mayo and cheddar, the restaurant's choice of chicken patty over chicken breast left both of us cold).
I have yet to meet a chicken patty that doesn't remind me of eating rubber.
With a stellar duck burger and latte already consumed, we chose to forgive the chicken misstep and carry on towards some cheeky midday desserts. For the gentleman? A bitter chocolate brownie. And the lady? The best carrot cake I could dream of. Fluffy and flavourful in a way that every failed attempt of my own wishes it could achieve.
Avoid the chicken burger and Foxcroft & Ginger might just become the best lunch of your year.