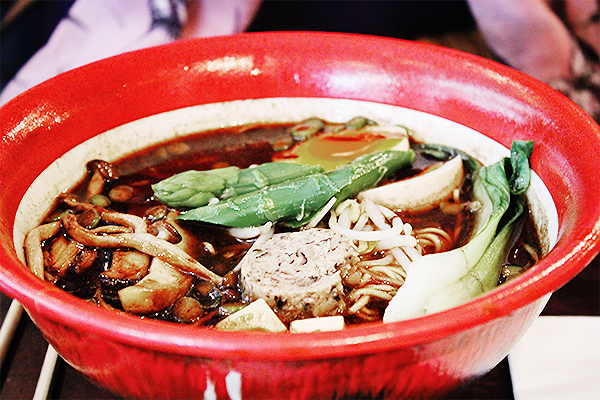 As far as London's foodie staples go, Bone Daddies deserves more than a mention. Unfortunately, I have been visiting for over two years and have somehow forgotten to give it some well-deserved blog lovin'.
Time to get into the spotlight, baby ramen joint.
Bone Daddies is reliant for four things. Four things that can become pros or cons, depending on your attitude and planning:
1. The best ramen in town. Since Bone Daddies' launch, the number of ramen restaurants in London have multiplied with bunnies. Bone Daddies still offer the tastiest versions around.
2. The worst queues in town. Perhaps second only to The Breakfast Club, the queues here have been thirty minutes long, even in freezing weather on a weekday evening. Plan for lunches at 11:30 and dinners around 5:00 for immediate entry.
3. The most intimate seating plan in town. The barstooled wooden tables keep the restaurant cozy, but would be a dire environment for anyone with social anxiety.
4. The most generous portion sizes in town. This is not a spot for the salad eaters of Soho. Bone Daddies' unavoidably sloppy bowls of ramen will feed you for days.
Almost every time I've gone for a bite, I end up ordering the Tonkotsu Ramen. I am not normally a creature of habit, but this gargantuan bowl is filled with a flavourful 20-hour pork bone broth, chashu pork, clarence court egg, bamboo, spring onion, bean sprouts, and mouth-melting noodles.
Nothing gets better for me, but Bone Daddies cover all bases nonetheless.
For the ramen-hesitant Manfriend? The 'T22', which features a chicken bone broth, soy ramen, chicken, and cock scratchings in addition to the veggie ramen staples. And for my new vegetarian friend? The Mushroom Ramen (mushrooms, tofu, garlic, thyme, egg, and a vegetarian mushroom broth) alongside a moreish plate of homemade pickles.
(They get bonus points for cocktails and sides, but I figure you're probably here to weigh up the ramen wars…)