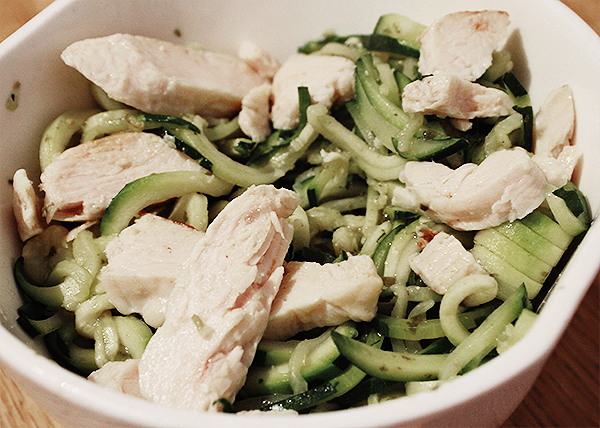 Since the life-changing moment my tastebuds were introduced to sushi, I have been obsessed with Japanese food. My issue, of course, is a lack of training and familiarity when it comes to preparing my own Japanese-inspired dishes. Though I stock up on Japan Centre's finest and have even tried my hand at sushi masterclasses (quickly learning that I should leave said skills to the maestros of Sticks N Sushi and beyond), many of Japan's most delectable dishes are a Lela-disabling art form of their own.
As far as Japanese food is concerned, my sole culinary success has taken the form of new-age hipster health food; Japanese Courgetti with Matcha Pesto. The low-carb courgette spaghetti (or courgetti) experiment has become my favourite (and an incredibly simple) comfort food substitute full of vitamins, protein, and incredibly fresh flavours. Paired with a cup of warm Rose Sencha, it makes for one very special detox meal.
Ingredients (serves one, double/triple quantities as needed)
Spiralizer (I use the Mueller Spiral-Pro)
Blender
1 chicken breast, sliced
1 bottle of Sake (I used Gekkeikan Sake)
1 cup of water
1 courgette
For the pesto:
1 tablespoon of matcha powder (I used Fukujuen Uji-No-Tsuyu Seicha)
1 bunch of parsley
1 bunch of basil
1 bunch of mint
3 cups of spinach
8 cloves of garlic
1/2 cup of olive oil
3 tablespoons of fresh lemon juice
Recipe
1. Put the chicken in a pan or slow-cooker, cover with the water and a few splashes of sake, secure lid, and let cook for 1-2 hours. Set aside.
2. Blend pesto ingredients together. Set aside.
3. Cut the ends off of your courgette and secure it into place on the spiralizer. Using your preferred blade (I prefer a mix of blades to add texture to the dish, but the smallest blades are most spaghetti-like), spiralize!
4. Put the spiralized courgette into a pan with the pesto and stir over medium heat for 5-10 minutes (the longer, the smoother).
5. Remove from heat, place into a bowl and garnish with your sake-infused chicken.
6. Enjoy!
(Public service announcement: Visit Japan is currently running a competition to win a trip to Kyoto! Remember your favourite courgetti-loving blogger when you win…)