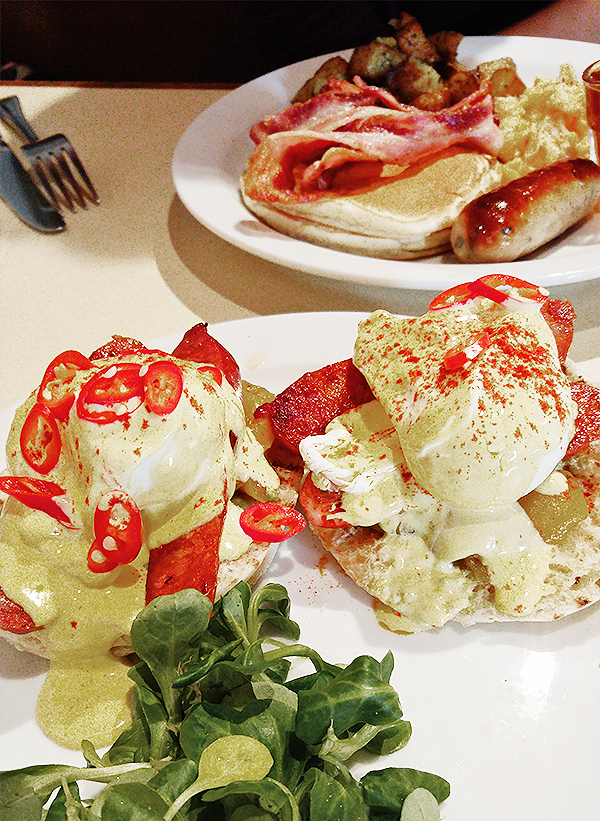 The Breakfast Club has become a real foodie institution and the average Londoner's go-to for Instagramable brunch indulgences. Year after year, their Soho branch – the O.G. – still manages to draw crowds of tourists and Londoners into their hour-long queues. Come rain or shine.
I love my pancakes…but I don't love my pancakes enough to wait in a downpour for them.
When trawling through citizenM's food reviews, I came across a new Breakfast Club outpost – near London Bridge – situated so close to citizenM Bankside and so far from typical tourist hotspots that I had to make an appearance.
The London Bridge location is a goldmine. It has all the consistent Americana charm of their other locations, sans queues. On this particular visit, our waitress delighted us with renditions of Christmas classics while we forked our way through the 'All American' (pancakes, eggs, sausage, homestyle fried potatoes, streaky bacon and maple syrup) and 'Huevos Al Benny' (poached eggs, chorizo, roast peppers, avocado, fresh chillies and hollandaise).
Thoroughly delighted with our selections and impromptu cabaret, we chose to order dessert in the healthiest possible fashion. For myself, the 'Green in Good' smoothie (spinach, mint, mango, & apple – they donate £1.50 from every sale of this smoothie to charitable projects) and a 'Tropical Gangster' smoothie (pineapple, lemongrass, lychee & apple) for my accomplice.
Brunch goals.