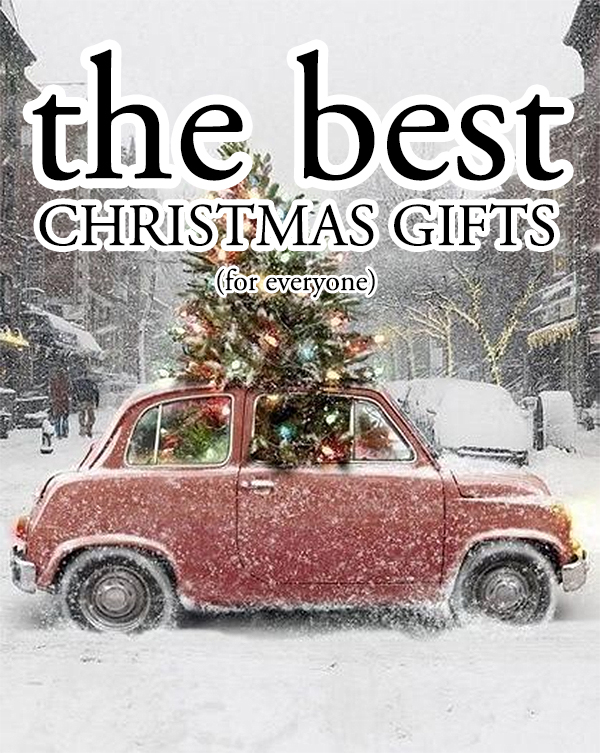 We have just over two weeks left until Santa Claus comes to town and – if you're anything like me – just about all your loved ones' presents left to purchase.
Fear not, festive friends! I have created a handy list of wanton presents – the best Christmas gifts (for everyone) – to inspire you and make your gift-giving exceptionally easy and fun.
Giftspiration, if you will.
Christmas Gifts
For The Beauty Lover That Has It All…
Esthechoc. These one-a-day dark 'beauty chocolates' use Cocoa Polyphenols and Astracells to form a complex anti-ageing beauty supplement. Each individually-wrapped portion works to keep skin clear, luminous and oxygenated from the inside out (and they have the science to prove it!). A tasty treatment, to say the least
For The One Who Loves Vintage…
The Celine Thin Preppy Sunglasses are a statement and a half.
For The One with a Red Cup permenantly attached to their hand…
Starbucks have the most ridiculously adorable range of mugs, tumblers, stacking cups, et al. I find I'll often use my "special cups" as decorative items (makeup brush holders, pencil holders, etc) so love the idea of filling these with something personal, as well.
For The One That Needs to take time for herself…
Gift cards can come with a bit of a stigma as a last-minute gift, but a Priv giftcard sits in an entirely different present realm. As the app offers a number of in-home beauty and health services, you can give the selfless woman in your life the gift of everything from professional hair and makeup to a resolution-friendly personal training sesh.
For The Rose Gold addict…
I am an absolute glutton for everything rose gold and recently came across two fragrant little beauties perfecr for any woman of the same ilk: the Monsoon Rose Gold fragrance and Cocolux Wild Frangipani candle. The fragrance is a fresh floral with lemon, vanilla and amber notes ahile the candle is hardcore Frangipani sweetness infused in Coconut wax. Like cheat day for your nose.
For The Blogger…
Since coming across the vintage-style Olympus Pen E-PL7, I have become wholly obsessed with the camera. Both technically and aesthetically sophisticated, the camera features an LCD that flips down (vlogging goals), built-in Wi-Fi, and specs that will rival your favourite DSLR.
For The One Obsessed With Lush…
I was 11 years old when I made my first Lush order and have been the happy recipient of many Lush products in the 10+ Christmases since. The Lush Legends box set, however, feels like all of those holidays in one.
The decadent present contains 27 of the brand's bestsellers (scrubs, bath bombs, conditioners, and more). It is the ultimatw in indulgence.
For The One Who Doesn't Like Anything…
I firmly believe that gifts should be personal but know that this can often be a challenge for those with friends and family members who keep their hearts off their sleeves.
For this, concert tickets are my go-to recommendation. It is relatively simple to discover someone's musical tastes and feels like such a treat to immerse a friend in something they love (creating memories while you're at it!).
If all else fails, I've also never see someone receive a hoverboard with anything less than excitement.