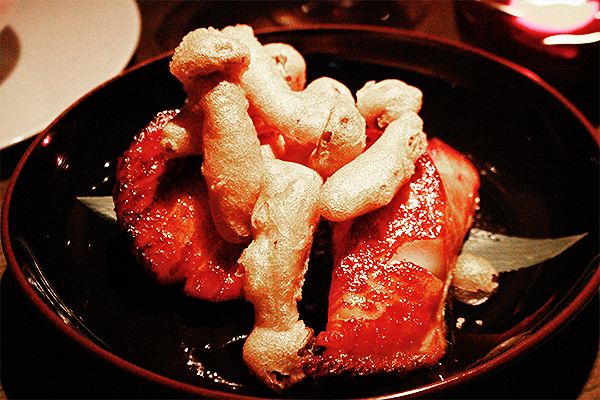 Brace yourselves, my previous foodie followers. We have a near-ideal tasting menu to discuss today.
As we are in the festive midst of Chinese New Year celebrations, I decided to spend a mammoth evening in the belly of Hakkasan Mayfair in celebratory anticipation of 2016's luck, joy and prosperity.
Worldwide, Hakkasan's esteemed international outposts are honouring the Chinese wishing tree tradition (inspired by the Lam Tsuen Wishing Trees in Hong Kong) and inviting guests to share their hopes for the coming year by writing wishes on ribbons, hanging them in the restaurants, and feasting on some truly inspired dishes.
As my dinner date and I toasted our wishes over two 9 Hóus (El Dorado 3 Year Old rum, Amontillado sherry, banana, guava, lime, agave syrup and walnut), the sheer size of the set menu that lay ahead started to sink in.
To begin, we enjoyed golden-cupped Japanese Wagyu beef with pine nuts and a faultless dim sum platter (har gau, scallop shu mai, Chinese chive dumplings, and duck & yam bean dumplings), before spooning through an unnecessary but flavourful double-boiled fresh ginseng and chicken soup (with bamboo pith and wolfberry).
Yes. Just to begin.
The real show-stoppers arrived shortly thereafter; wok-fried lobster in spicy truffle sauce (cooked to perfection) and a plate of grilled Chilean sea bass in honey that was so unbelievably perfect it verged on sexual.
That's not to say the Pipa duck, dried scallop & crab rice, or stir-fried Hericium mushrooms (with lotus root, asparagus, and lily bulb in black pepper) weren't wonders of their own merit. I would simply be less inclined to eat them every day for the rest of my life as I would the aforementioned duo.
Ending with their 'Golden Halo' (a beautiful sequence of soy caramel, banana delice, chocolate, and peanut) as we watched the last few wishes of the evening get tied into the walls around us, I couldn't help but feel like 2016 was already off to an enchanted start.
(Hakkasan's Signature Chinese New Year menu will run from now until February 22nd and costs £88.88 per person.)