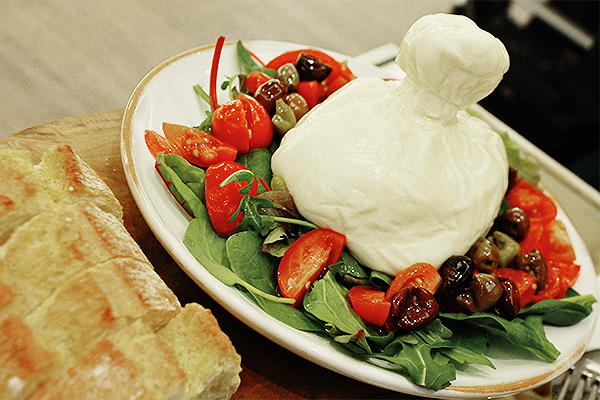 I've never heard a single soul say they don't enjoy Italian food and I am no exception to the rule. During recent trips to Venice, Florence, and Pisa (which you'll hear more about tomorrow) I never strayed from local faire.
Unexpectedly, it gave me a newfound respect for my less-than-local Puglian favourite – London's Pulia.
Hidden in a side-street of Borough Market that I have only run through on the way to meetings, Pulia is a diamond in the gentrified rough. I discovered the restaurant through their burrata (it was served at Emma Spitzer's EatAbout dinner and is still the best I've ever tasted) so first visited with the highest of expectations.
With a glass of Aglianico in hand, my lunch date and I tackled the fresh Puglian menu as best we could: focaccia, panzerotti, crocche', rustici, vegetables pate', mixed charcuterie, mozzarella, impossibly fresh pastas, copious amounts of home-made olive oils, burrata heart, and even more burrata (for good measure).
Though our table was so overloaded plates were quite literally teetering over the edge, I would recommend nothing less than such gluttony. The menu is simply too fresh, too authentic, and too delicious to hold back.
Upon the recommendation of our waiter, we capped things of with Pasticciotto (a warm shortbread cake filled with custard or chocolate & hazelnut) and drenched it in our choice of ginger-infused olive oil. Don't knock it 'til you try it (hint: it's un-knockable).
With more meetings standing between me and the rest of the menu, I grabbed a flat white to go and found myself with yet another reason to return.
For all the epicurean romance I have felt throughout my recent travels, it is wonderful to know I have such a bona fide little slice of Italy in London.